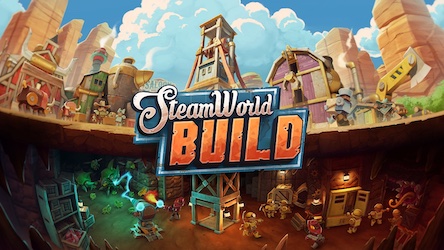 August 2nd, 2023 at 4:58 pm -
Thunderful and internal development studio The Station are pleased to announce that the anticipated SteamWorld Build will be coming to gamescom 2023 from August 23rd – 27th, ahead of its release on PC, Xbox Series X|S, Xbox One, PlayStation 4, PlayStation 5, and Nintendo Switch. The game will be a part of the Official Xbox booth at gamescom and this will be the first time SteamWorld Build has been playable at a public event.
Developed for PC and console simultaneously, every aspect of SteamWorld Build has been designed to ensure that the game works just as well with a controller in hand as it does with mouse and keyboard, bringing a traditionally PC-centric genre to console without compromise. Players can find out just how well SteamWorld Build works on a controller first-hand at gamescom when they visit the Xbox booth.
As the architect of a SteamWorld mining town, break ground and raise houses for your steambot citizens, keep them fed and provide some rootin'-tootin' entertainment. Venture into the abandoned mine sitting under your town, rumoured to be filled with ancient tech that holds the key to escaping impending doom. Using the natural resources above ground and the abundant ores buried below, expand your town, stimulate new residential tiers to join the quest to dig deeper, unearth untold riches and ultimately help them to hightail it off the planet!
SteamWorld Build's above and below-ground elements have an interdependent relationship where everything you discover, mine or build feeds into what you can do when you switch from above to below, and vice versa. These cogs all fit together to create a satisfying game loop where you are always making progress and are always engaged.
"We're really excited to see you all at gamescom," said Adam Vassee, producer at The Station. "It's a fantastic opportunity to get this game in the hands of players and let them discover this next entry in an award-winning franchise for themselves".
Gameplay Trailer: