November 10th, 2022 at 5:14 pm -
Earlier this week, Atari announced it's carrying on with the company's golden anniversary festivities with a new set of 50th Anniversary collectible cartridges for the Atari 2600: Centipede and Yars' Revenge. Preorders are now available for the limited edition cartridges and can be purchased through the official Atari XP website and Limited Run Games.
The limited edition cartridges feature striking, reimagined artwork on the front label and an acrylic topper featuring the game's title that lights up when inserted into the console.
The cartridge boxes are designed in a distinctive black box with a remastered version of the original key art. When all 10 cartridges are displayed together in a set, they display the Atari 50th Anniversary logo on the spine.
Atari XP Limited Edition Bundles Include:

●

A newly manufactured Atari 2600 cartridge with custom artwork and an acrylic top that lights up when being played.

●

Premium game box with an internal cutout window that allows you to see the cartridge when displayed

●

Custom acrylic Atari cartridge stand

●

A color-printed instruction manual

●

A hard enamel collectible pin with black nickel plating

●

A polyester blend, twill-woven embroidered collectible patch
For many people, Centipede is THE game that defines the Golden Age of Video Games. Millions have blasted bugs, mushrooms, spiders, fleas, and scorpions, but few probably knew that they were playing as a wand-wielding forest sprite. Starting with 12 body segments, players face 12 waves of centipedes, spiders, fleas, and scorpions crawling through a maze of mushrooms bent on bringing about the dreaded "game over." With a combination of strategic thinking and quick-play action, Centipede is an intensely-fun multiplayer game.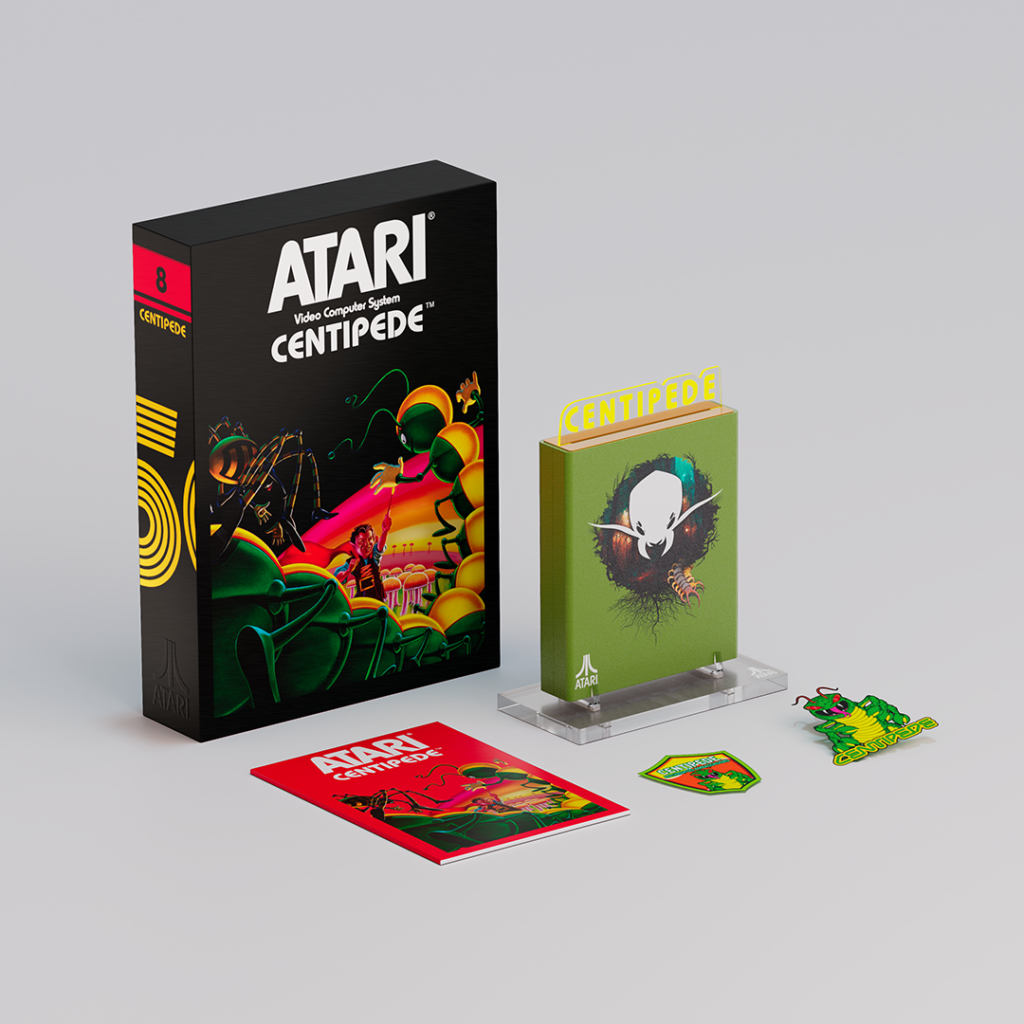 Then, there was Yars' Revenge. An action-packed arcade shooter, the game pushed the graphical capabilities of the 2600 to the breaking point. While the space-shooter genre was very popular in the early years of gaming, Yars' Revenge seemed to break all of the usual conventions. Yars' Revenge was so fondly remembered that it inspired a sequel, Yars' Return. Additionally, Yars' Return was also released as an Atari XP cartridge collectible earlier this year.
Atari XP cartridges are manufactured to exacting standards from all new parts and materials, with beveled edges to prevent pin damage, strong gold-plated connectors, and identical power draw to the originals. The Centipede and Yars' Revenge 50th Anniversary Atari 2600 cartridges are a chance to own special, limited edition versions of two genre-defining titles from the golden age of gaming.