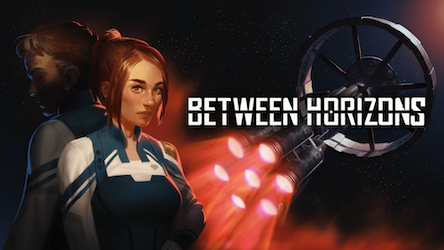 October 27th, 2022 at 4:30 pm -
Between Horizons is a modern 2.5D pixel art adventure that brings a branching narrative into a semi-open world. The developers at DigiTales proudly maintained the tight pacing of Lacuna, which translates into a meaningful, space-faring story laced with thought-provoking dilemmas and rich sci-fi themes. Players will need to reevaluate their moral compasses and make increasingly tough decisions as the situation aboard the ship spirals out of control. After all, those alive today won't be around to see the end of the mission, so the new Chief of Security must shape the future.
Key Features of Between Horizons:
●

A New Type of Sci-Fi:

Between Horizons merges investigative-style gameplay with a branching sci-fi story in an ever-expanding Metroidvania-style environment


●

Solving Cases for Yourself:

The flexible evidence system lets players assign clues to cases, confront ship denizens about them, and submit any case with evidence players have connected to it. Everything found on the ship is connected, but figuring out how — that's the challenge.


●

At What Cost?:

Underneath the game's exciting and plausible sci-fi plot lies a number of thought-provoking problems inviting players to weigh intergenerational responsibility against personal freedom


●

Getting New Perspective:

Timeless pixel art mixed with 3D environments and compelling visual effects come together in Between Horizons, creating a unique, beautiful art style


●

Failure is Very Much an Option:

There are no second chances — submitting wrong solutions means the story will go on and players live with the consequences. A new and improved auto-save system will make sure there is no going back, as the story branches and endings are based on player decisions, none of which can be taken back.
Follow Assemble Entertainment on Twitter, Instagram, and Facebook, and join the official Assemble Discord server.
Follow DigiTales on Twitter, Instagram, and Facebook, and join the official DigiTales Discord server.
About Assemble Entertainment
Founded in 2016 and based in Wiesbaden, Germany, Assemble Entertainment is an independent games developer best known for the survival city-builder Endzone – A World Apart, which challenges players to survive and thrive following an environmental apocalypse, and the modernized Leisure Suit Larry series, featuring two new entries in the iconic decades-spanning saga.
Despite the company's short history, Assemble Entertainment has won the German Developer Award twice — in 2020 and 2021— in the category "Best Publisher." Assemble Entertainment organizes GermanDevDays, an annual conference held in Frankfurt, Germany since 2016, that attracts more than 1,100 attendees from across the German-speaking video game development industry. The event also includes the GermanDevDays Indie Award, where indie development teams across Germany can participate in varying categories to win a cash prize for their projects. The event is hosted by Stefan Marcinek, CEO and Founder of Assemble Entertainment. More on www.germandevdays.com and www.assemble-entertainment.com.
Trailer: