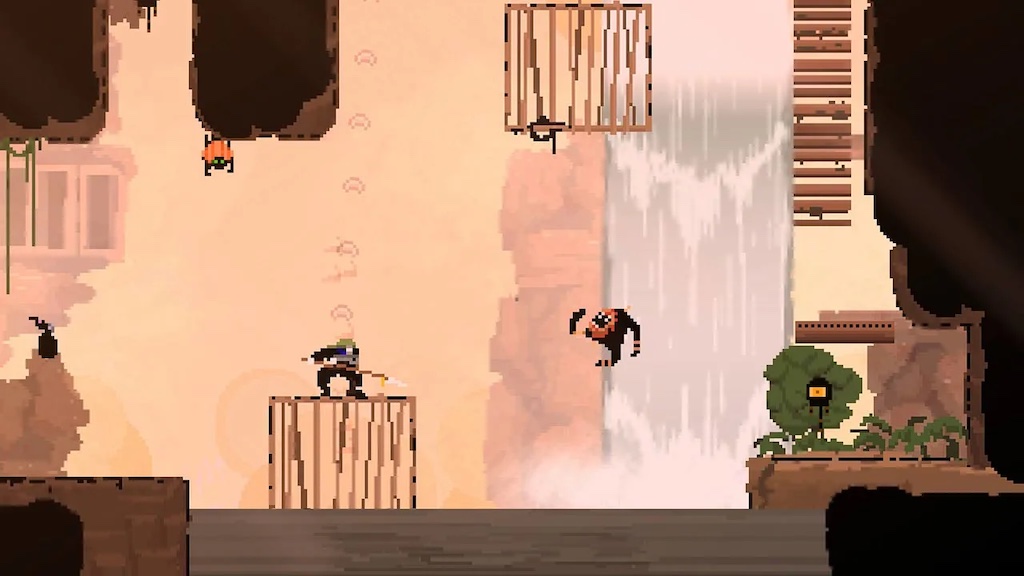 May 11th, 2021 at 1:48 pm -
Have you ever wondered what it would be like to be shipwrecked, get trapped in a strange country, and craft magic hats? If your answer is "yes" to any (or all) of these, then wonder no further! The folks at Skeleton Crew Studios and Devolver Digital have brought us Olija, which is a story that's all about facing the unknown in times of adversity.
Olija is an interesting game about Faraday's quest, as Faraday is a man who has shipwrecked and then got trapped in Terraphage; a hostile and mysterious country. And as he's armed with a trusty harpoon of legendary status, Faraday and the other castaways attempt to leave Terraphage, so that they can return to their respective homelands. Through means of narration, sharp-as-nails combat, and exploring, you will discover a strange world and its denizens — including Olija, an enigma of a woman that Faraday finds himself drawn to over time. Terraphage itself is actually made up of a series of islands, and the game mostly involves traveling to each one to find the survivors, and collect keys and maps that will allow you to explore more islands. Amidst all this exploration, you'll even manage to build a small town that grows as you rescue more and more people.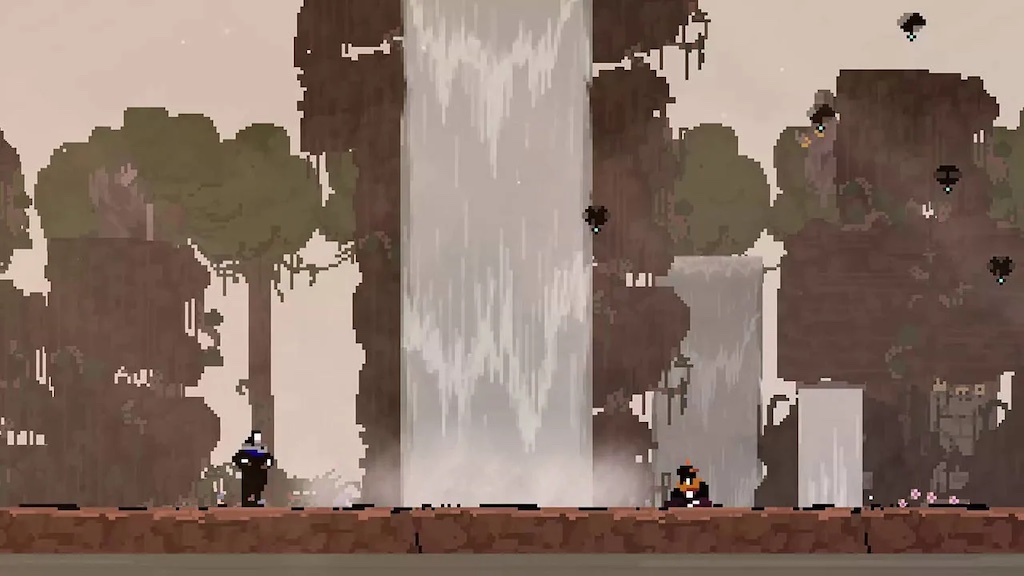 Like I said — facing the unknown in times of adversity…
If there were any twists to Olija, I would have to say the biggest one would be the harpoon. It has a teleporting feature, in the sense that you can just throw it at something and zip to its location. This particularly comes in handy, as you can land a devastating blow to a faraway enemy or warp across broken bridges. The side-scrolling action is noticeably fluid as well, with every jab of the spear causing a nice — and upsetting — spurt of blood. Don't think for a minute that you're just stuck with the harpoon, though. You can also mix things up as you unlock secondary weapons like a shotgun and throwing knives.
Remember when I mentioned enemies in the previous paragraph? Most of the regular ones aren't too tough, so I didn't have much trouble slashing my way through hordes of one-eyed monsters or undead workers. And the fast-paced action and awesome weaponry kept it fun. However, the challenge kicks it up several notches when taking on the bosses, but once you figure out the patterns (which usually took me a few deaths in most cases), you should be able to get by with no problem.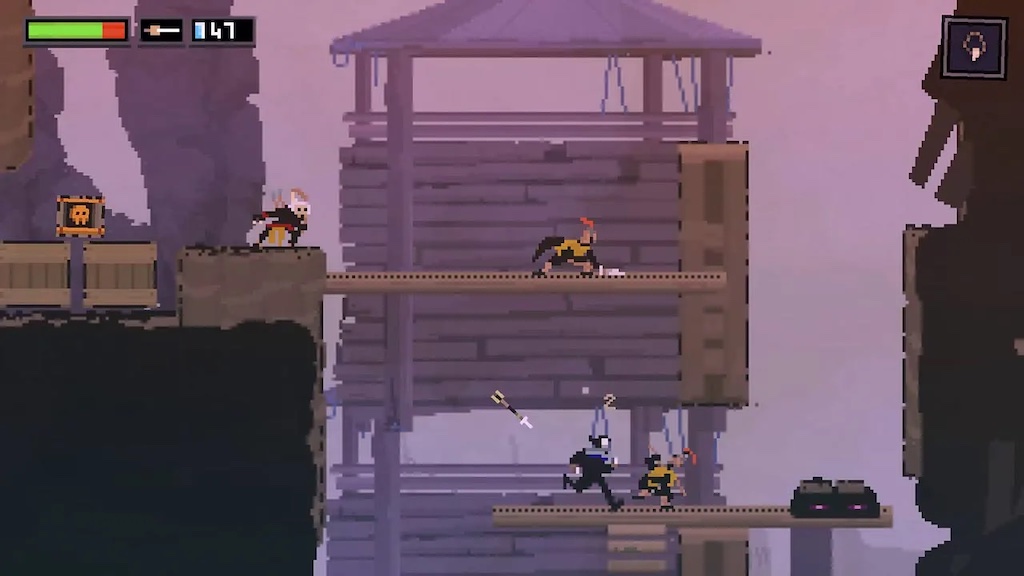 I know Olija sounds like your typical, standard action game, but it's the uniqueness and vibe that give it its charm. The world is a cross between much-inspired ancient evils and Japanese folklore. And besides the fact of the minimal dialogue, there's plenty of interesting characters. On an added note, the developers used that familiar side-scrolling format to create some really awesome scenes. I'd say my favorite one was when I was making a mad dash out of this cave and these zombie-esque creatures had latched themselves onto me. For being a game that's about exploring the dark, Olija has plenty of warmth and light. Call me old-fashioned, but there's just something very comforting about returning to town after fighting through a dungeon, just so that I can chat with the townspeople or replenish my health with some stew.
As wonderful as this game is though, one trade-off is that it's smaller in scale as compared to similar games of its kind, nor does it have the same kind of replayability. But even still, Olija is solid proof that you can have a satisfying and tense action game, without the punishing and maddening levels of difficulty.
Olija Official Website: https://www.nintendo.com/games/detail/olija-switch/
Shawnaya Boley
Platform: Nintendo Switch
Developer: Skeleton Crew Studios
Publisher: Devolver Digital
ESRB: T (Teen)
Price: $14.99
Size: 477 MB
Review Score
Graphics
Very hauntingly beautiful for a 2D side-scroller.
Sound
A rockin' The Japanese-inspires music is a nice touch.
Gameplay
Exploring AND slashing? Yes please!
Overall
A strange, odd game with very solid effort.