February 1st, 2021 at 6:40 pm -
(NOTE: Hi folks! Before I begin here, I'd like to mention that this particular review is for the Nintendo Switch version, not the Xbox One version. The game was released in June 2019 for the Switch & September 2020 for Xbox One respectively…)
It's always refreshing (at least for me) when a classic game from way back when, makes its way into current-gen consoles. In this particular instance, I'm referring to Leisure Suit Larry: Wet Deams Don't Dry by CrazyBunchand Assemble Entertainment, for the Nintendo Switch. I can recall my later teen girl years of playing my very first LSL game — "In The Land Of The Lounge Lizards", for those who didn't know — on my Apple IIe computer. Back in the days of Sierra On-Line (Space Quest, King's Quest, and Police Quest anyone?). But before I take a complete stroll down memory lane here, let's discuss Larry Laffer's entry on the Switch, shall we?
LSL: WDDD begins with our lady-loving loser having been thrust into the 21st century. As to how this happened is neither here nor there, really — the point is that there are plenty of jokes for how a '70s/'80s-esque fossil relic of a swinger makes his way through the world we now live in, of such things like dating apps and the #MeToo movement. And of course these jokes are hit or miss, with others being frighteningly accurate in their cynicism.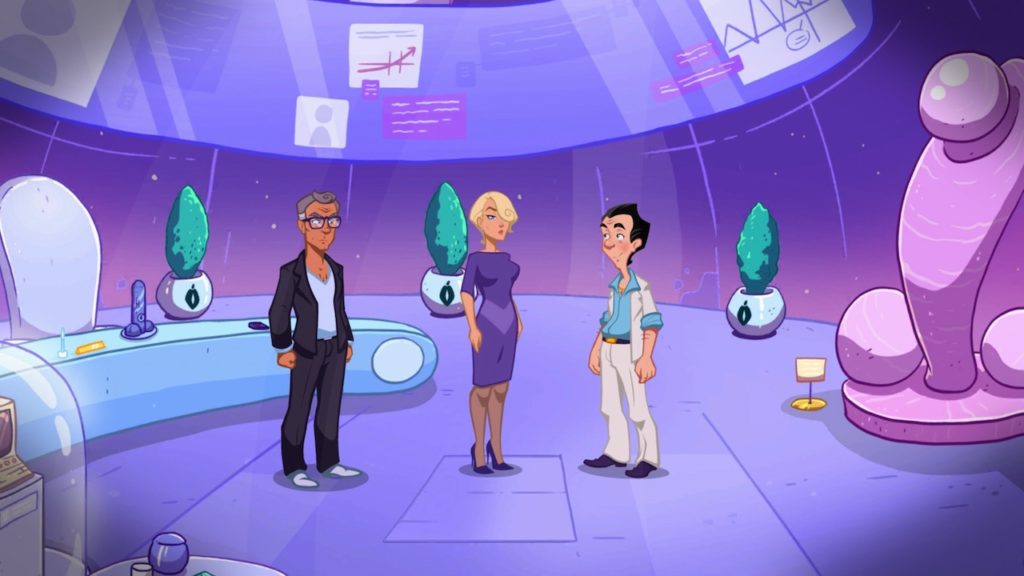 When Larry first appeared in the late '80s, the games weren't really about his attempts to 'score chicks' per se. Instead, they were more about the crazy situations that he'd find himself in, as a result of these attempts. And even more importantly than that, the women almost always had the upper-handed advantage over Larry: the jokes were always — and I mean always! — on him.
Larry's latest adventure takes him to numerous locales with multiple women to date (once he accustoms himself with the Timber app on his phone), and a ridiculous number of nonsense-ish puzzles, which you might as well toss logic out the window while trying to figure them out. As in the early LSL days — or even any other old Sierra On-Line adventure romp for that matter — nothing is so easily solved. Just keep in mind though that this is the point, more or less. It's how Larry's early adventures were like back in the day, and there are some pretty good jokes written into the failures. I just wouldn't recommend doing a walkthrough with this game or anything; you might miss out on some good laughs.
Speaking of jokes, there's a good many of them that are vulgar and off-color, so there's no question that the easily offended folks will get offended early and often. Given my sense of humor, I don't have a problem with any of this, but I noticed a lot of the jokes were a bit on the lazy side. What I'm saying is, mature content had to be more subtle back in the 80's, which in turn was full of innuendos that dared anyone to get the punchlines. But now, a lot of LSL's jokes are just too obvious.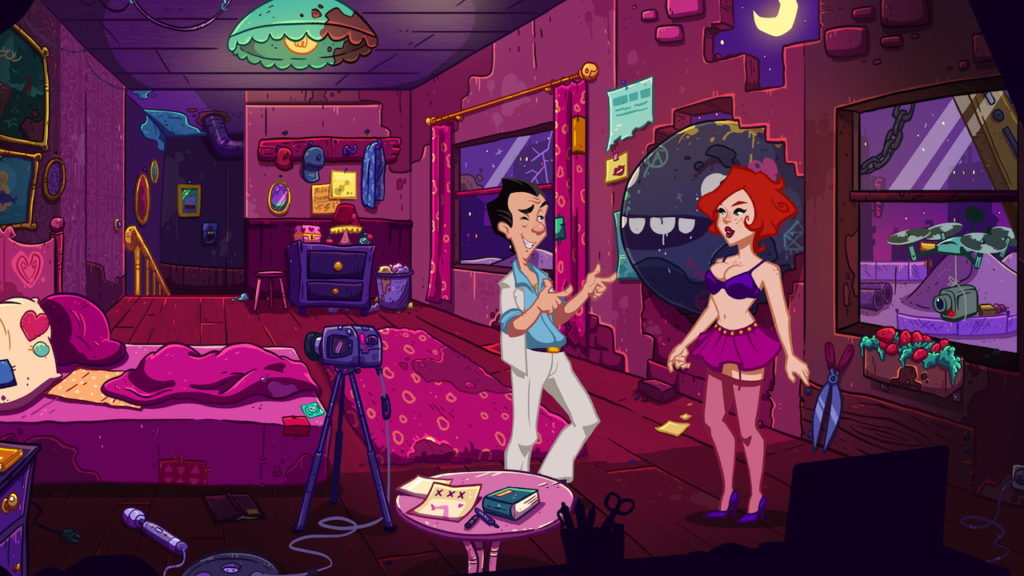 As much as I love this game though, that doesn't mean it's without flaws. For starters, If you're not used to point-and-click and inventory-based interaction and puzzle-solving, you could very well end up hating this game. This kind of control scheme is much quicker and easier with a mouse and keyboard than with your Switch's Joy-con controller. The difficult controls just make the trial-and-error problems with the random puzzles worse.
Griping aside, LSL: WDDD is a great game that works better than what I thought it would, especially considering this is the first Larry game that I've played since his very first title. With the colorful graphics and crude humor intact, it was nice seeing the eternal swinger of a bachelor getting a facelift. And an extra nod goes to the "Happy Ending" DLC, which I won't say anything about, other than I smell a sequel set up. (And as of the writing of this review, a sequel has been announced.)
Shawnae Marie
Platform: Nintendo Switch/Xbox One
Publisher: Assemble Entertainment
Developer: CrazyBunch
ESRB: (M) Mature
Price: $39.99
Official Website:
https://www.crazybunch.biz/games/leisure-suit-larry-wet-dreams-dont-dry/
Review Score
Graphics
Colorful graphics and smooth animation.
Sound
Great voice acting and plenty of crude humor.
Gameplay
LSL WDDD is a great game that works better than what I thought it would.
Overall
Fans of the original series will enjoy this.