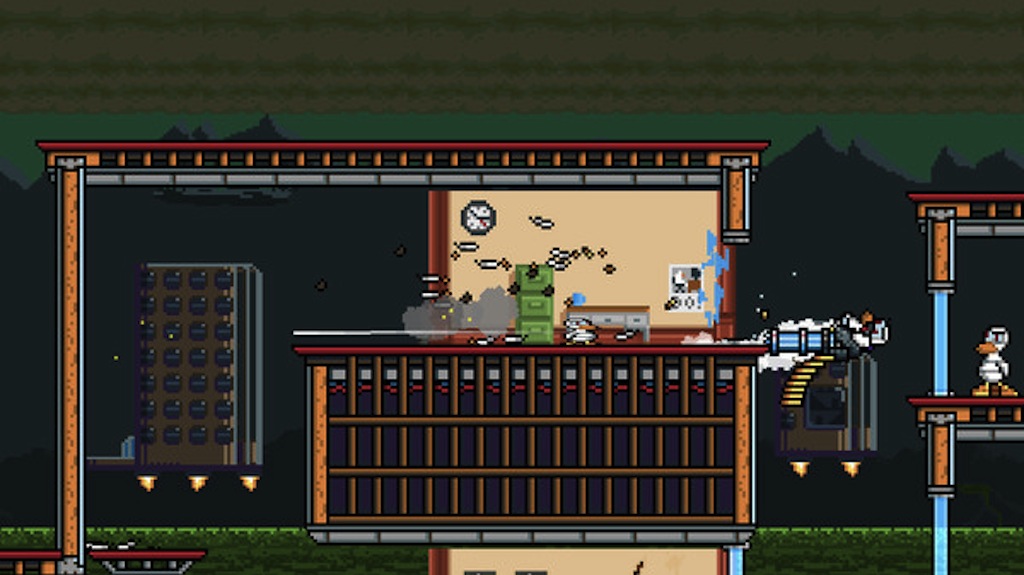 May 14th, 2019 at 7:40 pm -
Adult Swim Games has a penchant for developing unusual, but creatively zany games, and Duck Game – a run-and-gun shooter starring a customizable duck who can 'quack' on command – is their latest release for Nintendo Switch. Where conventional game mechanics and level design are concerned, Duck Game takes everything that has been fundamental for a cross-genre release and literally kicks it through a glass-pane window to its untimely (and feathery) demise. This isn't a bad thing in Duck Game's case.
Before the game starts, the player is given the opportunity to 'gear up' their duck. From a small room, a computer can be accessed by pressing Y button. From there, the 'Custom Duck' menu appears with a variety of hats to choose from. The apparel is cosmetic and has little bearing on the game. It does add some comic relief, though, as the choices include a beer drinking hat, a captain's hat with a grey beard, and a pair of goggles, among others. There are plenty of other hats to unlock as well.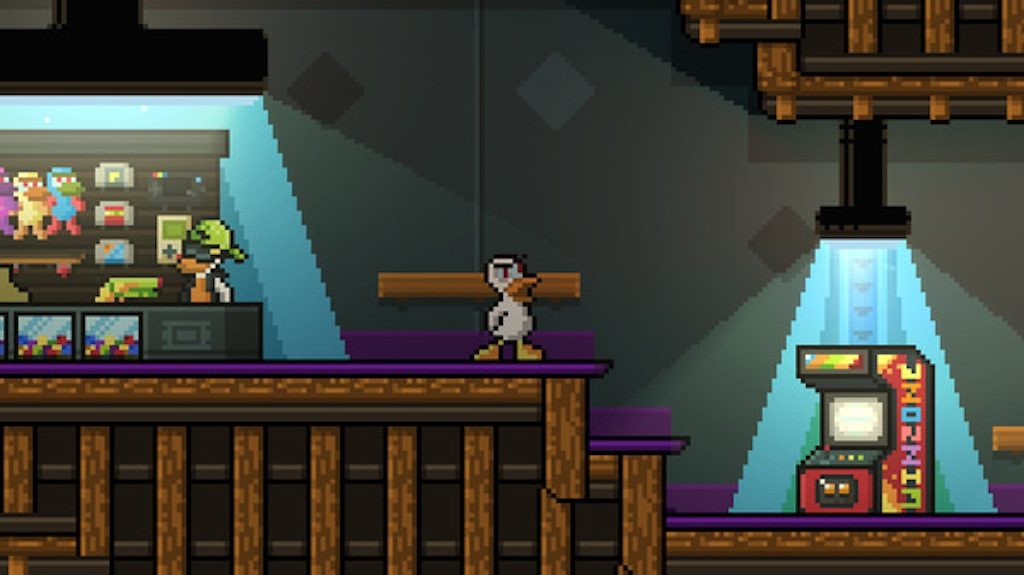 When the player is finished, they can pick up a shotgun (which is located within the same room) by pressing X button, and then shooting through a glass window to access a portal. This is where the player can choose between two modes of play – Challenge Arcade and 'Play Online'. The 'Challenge Arcade' is Duck Game's single-player mode. From here, the player visits a dingy-looking arcade that contains multiple coin-op machines and a vendor named, Chancy (an NPC where upgrades cam be purchased). The player must interact with each arcade cabinet to play a series of mini games. Each mini game comes with a set of conditions that must be met. For example: The first coin-op machine – aptly named Variety Zone – includes a series of arcade-like courses.
One level in particular has the player racing through a bunch of 'crap' (to quote the level's description) to collect yellow stars. This involves jumping on platforms, squeezing through small spaces, and moving objects that block doorways to collect stars within a specified time limit. And this is just one of the many arcade-style levels available in game. Depending on the arcade cabinet, the player could find themselves inside levels that are reminiscent of Elevator Action, as they pick up random weapon spawns (consisting of pistols, rifles and shotguns) and running through house-style levels killing enemy ducks. In a more interesting twist, the player is swinging from platform to platform suspended high in the air, rescuing stranded ducks. The gameplay is represented as a classic, 16-bit Genesis title, replete with Kid Chameleon-like jumping mechanics and Midnight Resistance gunplay. It all comes together well, especially during multiplayer (which is Duck Game's crowning jewel).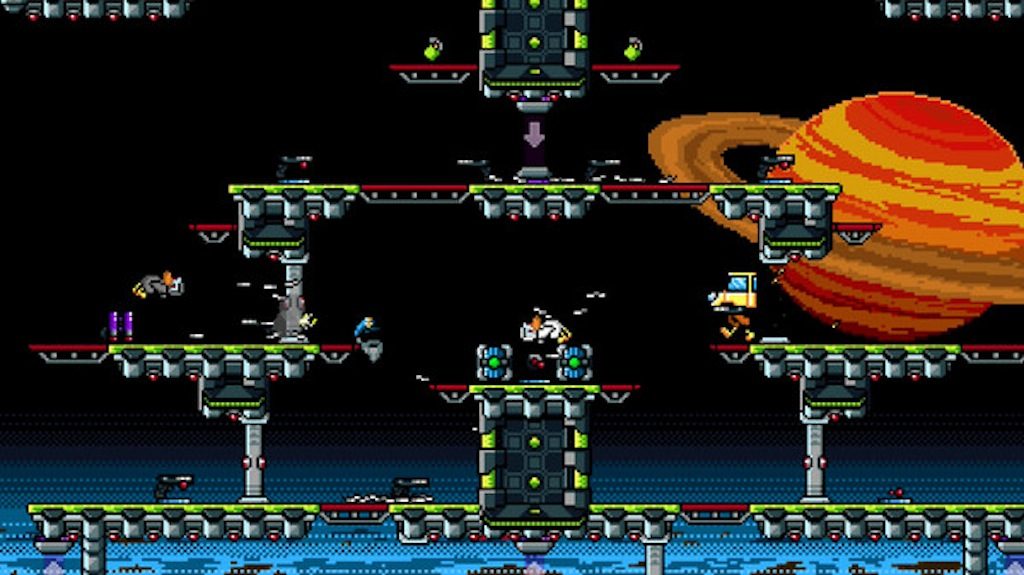 Multiplayer is a death match free-for-fall that supports up to 4-players simultaneously. The objective is to kill the other three players with a variety of firearms (i.e. pistols, rifles and machine guns), explosives (i.e. grenades) and tools (i.e. hammers, chainsaws, etc.) that spawn randomly in each level. The levels themselves are quite large, containing a variety of rooms and platforms to explore. The matches happen rather quickly, and end only when one duck is remaining. The camera system for Multiplayer could use some work, though. When the camera zooms out to keep track of the other players in Portable Mode, the sprites and weapons become difficult to see. The developer really should have considered split-screen co-op for portable play.
With the aforementioned gripe aside, Duck Game by Adult Swim Games is a 'blast' to play, especially when its experienced with a group of friends. As a single-player experience – there's enough content available to help Duck Game stand out on its own, but it's not the 'meat' of the game. The real fun happens when the player gets to vent the craniums of the would-be ducks foolish enough to accept this oddly addictive title.
Mike Pittaro
Platform: Nintendo Switch
Developer: Landon Podbielski
Publisher: Adult Swim Games
ESRB: E 10+ (Everyone 10+)
Price: $12.99
Duck Game Official Website:
https://www.adultswim.com/games/pc-console/duck-game/
Review Score
Graphics
Decent 16-bit graphics that resemble a Sega Genesis game.
Sound
Lot's of quaking when multiple people are playing.
Gameplay
Challenging single-player levels and fun multiplayer maps abound.
Overall
Duck Game by Adult Swim Games is a 'blast' to play, pun intended.