September 12th, 2018 at 4:29 pm -
House of Doom brings horror and doom metal to the reels
1990s metalheads will be flocking to the online casinos with coins in hand to try their luck on this latest offering from Play'n GO. Renowned Doom Metal rockers Candlemass worked closely with the developers in producing the soundtrack to this game, and the results are nothing short of outstanding.
The production values are evident from the outset and are of a scale that was unheard of in the dime a dozen slots sector of recent years, with which we have all become familiar. Developers are clearly cottoning on to the idea that with the size of today's online casino market, it is no longer enough to go through the motions, and a game needs time, dedication and investment to attract players. House of Doom ticks all the boxes.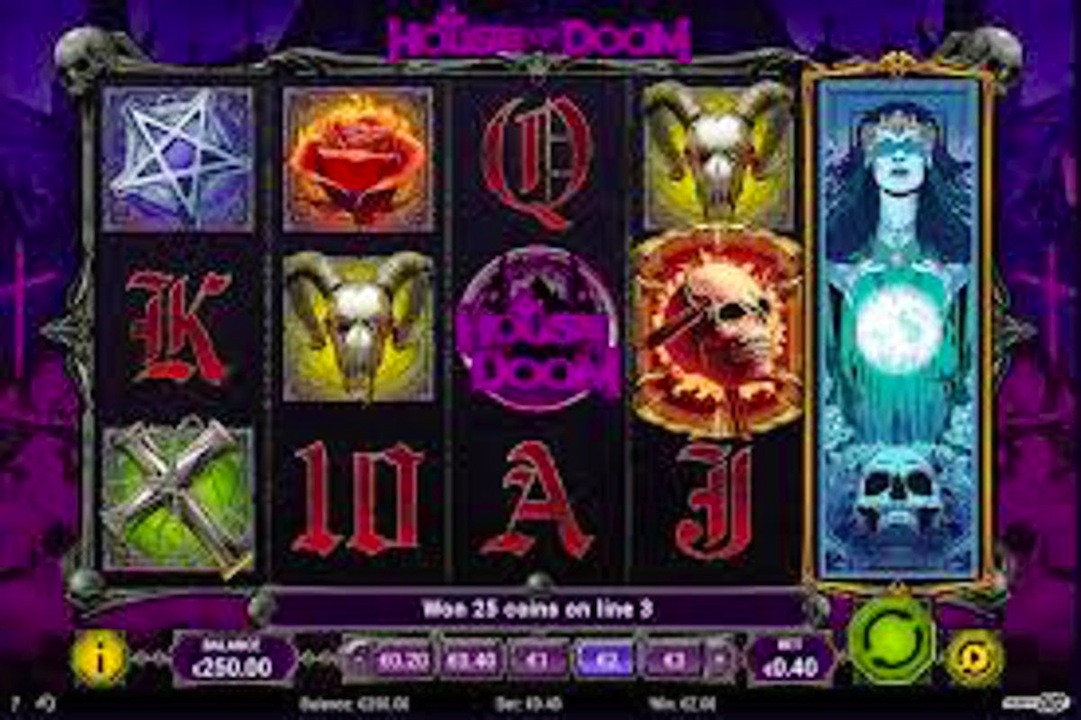 What's it all about?
As the name suggests, this is a game full of darkness and gothic imagery. You can play House of Doom here, where you will be transported to a haunted churchyard, surrounded by ghosts, demons, pentagrams and goats skulls. Most of all, though, this game is a truly visceral experience, and your ears will be assailed from that impressive soundtrack – you don't have to be a child of the 90s to enjoy it, but it certainly helps!
Down to business
Like most of today's slot games, this one has engaging gameplay in the shape of bonus features and special spins, but before we get into those, let's take a look at the mechanics of the reels themselves. House of Doom has five reels with ten paylines, and those who know a little about their slots will soon understand that the doom part is not restricted to the symbols and music.
Be warned, this is a game with higher than average volatility. Messing with the dark forces you encounter could present a drain on your resources with little immediate return. However, the beauty of a high volatility game is that when you do get a win, it is more likely to be a substantial one. Manage your bankroll with precision, and you have as good a chance of coming out on top as you do with any other slot. Just don't expect those small, regular payouts that you get on lower volatility games.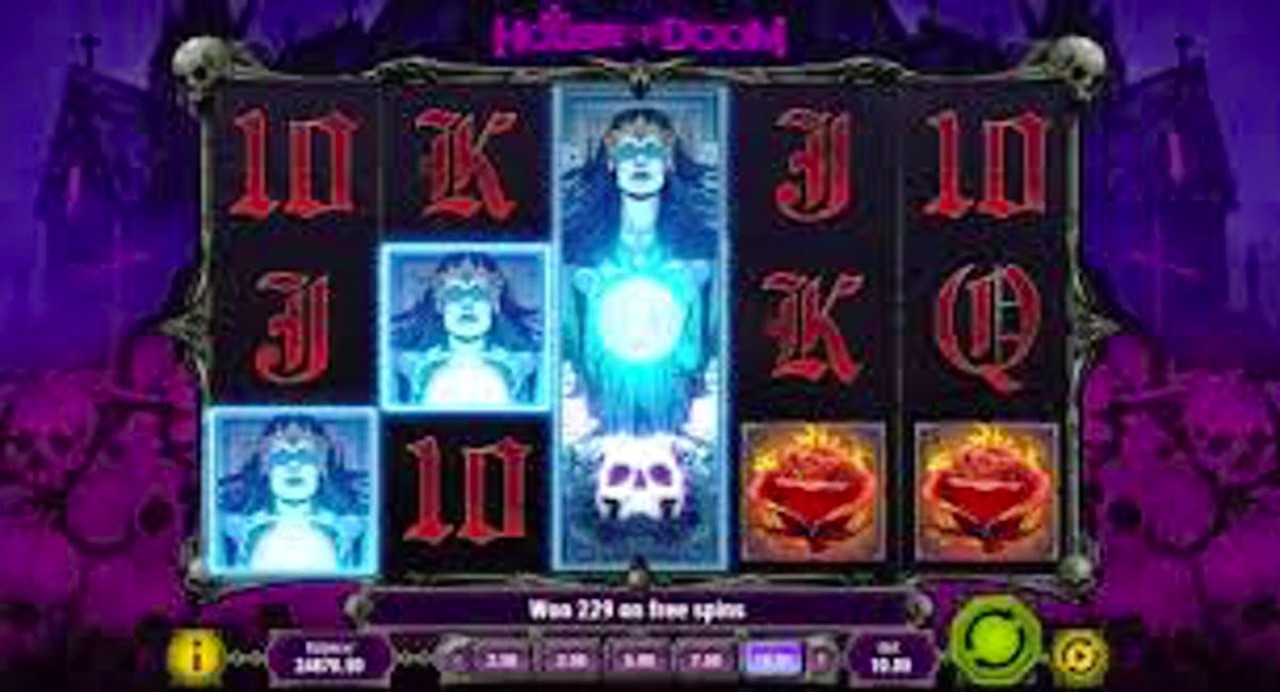 Special Features:
House of Doom has a range of special spins and bonuses. Here they are in all their hellish glory:
Doom Spins – all you need is three House of Doom symbols anywhere on the reels and you will trigger the doom spins feature. This awards you ten free spins, in which the House of Doom symbol acts as a wild.
Hellgate – this triggers randomly and highlights one of the reels. Any wilds that come up on that reel expand on the screen to replace all other symbols on the highlighted reel.
Skulls of Abyss – this is a bonus game that is triggered by three flaming skulls in the middle three reels. The other symbols disappear and are replaced by 15 skulls, each of which conceals a prize. You can keep selecting skulls and scooping prizes until you reveal either a House of Doom or an End symbol.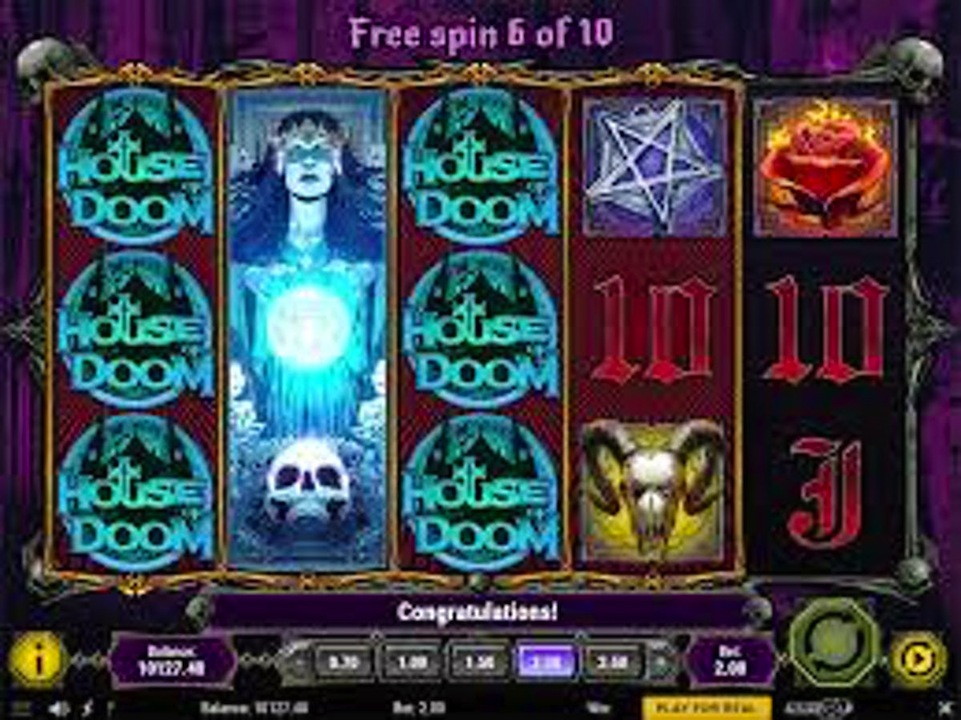 Win big and rock out to doom metal
House of Doom is the game that long haired rockers have been waiting for. You can check out the House of Doom review on this blog, but in short, if you like an atmospheric game with great production values and are not afraid of above-average volatility, then this one should be near the top of your list next time you are in the mood for a spin of the reels. Good luck, and stay safe in the House of Doom!