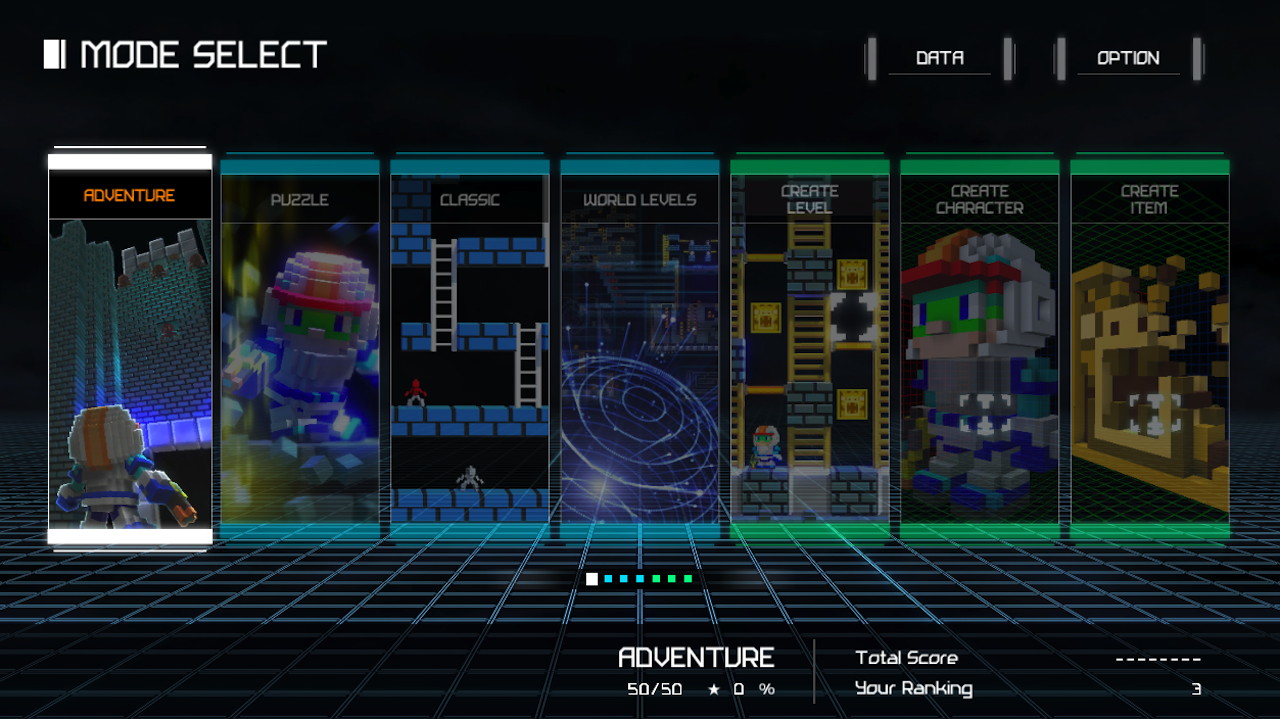 July 11th, 2018 at 4:56 pm -
First published by Broderbund in 1983, Lode Runner is a fast-paced, 2D platformer that involves precision jumping and movement to navigate a variety of puzzle-oriented levels. The game first appeared on a variety of 8-bit computers (the Apple II and Commodore 64 respectively, among others) and later for consoles and 16-bit home computers.
Lode Runner Legacy by developer Tozai Games is a remastering of the original that uses voxels instead of sprites for the game's graphics. The final product is identical to Broderbund's version with some modern polish thrown in for good measure. For starters, the single-player campaign includes 5 game modes: Adventure, Extra, Puzzle, Classic and World Levels. Adventure is the remastered version of the game that spans 50 different levels. Extra includes new stages and enemies. When a stage is completed, a new one unlocks.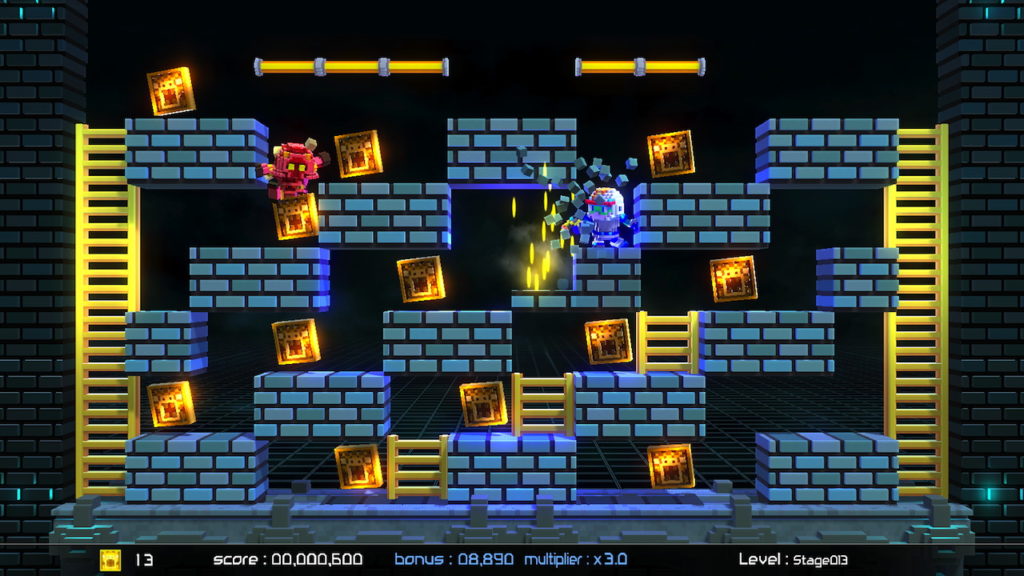 Puzzle, as the name implies, is a series of puzzle-oriented levels that don't contain any enemies. This game mode is a great way to become familiar with Lode Runner's game mechanics. Classic mode is the original, retro game, replete with classic 'beeps' and 'bops' for sound effects and iconic stick-figure sprites. World Levels is a collection of player-made levels, all ranked by design and popularity. In addition, Legacy also includes a 'Craft Mode' where the player can build new levels, characters and items, and then upload them for others to enjoy. Each editor comes with a tutorial that walks the player through the creation process.
Legacy's gameplay is based on simple platforming mechanics that may seem dated by today's standards. The objective is to collect a series of gold coins in each of the game's 50 levels, and then escape via a ladder at the top of the stage in record time. Since there is no option to jump, the player must rely on Lode Runner's gun to survive. While limited, the gun can be used to destroy blocks and to trap enemies inside platforms. It can also be used to dig down into a level to reach buried coins.
Legacy's difficulty increases as the player progresses through the game. Not only do the puzzles require more thinking, but the enemies will chase Lode Runner relentlessly until they're trapped inside a platform. Once killed, the enemies will respawn elsewhere in the level and continue their pursuit. The only way to actually survive this onslaught is to complete the level and move on to the next one.
Like the game itself, the controls are fairly basic. Lode Runner can be controlled with either the Directional pad or left Analog Stick, and the A and B buttons are used to fire his gun respectively. That's about it. Legacy is more about the gameplay (and solving its puzzle-based levels) than providing anything new, which is fine. It wouldn't be Lode Runner if the game's dynamics were altered in any way.
Lode Runner: Legacy for Nintendo Switch is a likable game that is guaranteed to provide hours of enjoyment. It feels right at home on Nintendo's hybrid portable, especially when played in portable mode. The gameplay may not be for everyone, but for those looking for a classic gaming experience with a modern facelift – Lode Runner: Legacy by Tozai Games will not disappoint.
Mike Pittaro
Platform: Nintendo Switch
Developer: Tozai Games
Publisher: Tozai Games
ESRB: E (Everyone)
Price: $11.99
Lode Runner Official Website: http://www.tozaigames.com/
Review Score
Graphics
Legacy's use of voxels gives this classic the modern facelift it needed.
Sound
Decent music and average sound effects.
Gameplay
Classic gameplay at its finest.
Overall
While not for everyone, Lode Runner Legacy is a fun game that challenges the player from start to finish.