August 25th, 2017 at 3:28 pm -
There was a time when PC computers were underpowered, heavy boxes that could only produce 4-color graphics and simple sounds through a 1kilobyte speaker. Gaming on a PC wasn't like it is today, and it definitely had its drawbacks. Commodore Business Machines – the company responsible for creating the Commodore 64, the most successful 8-bit microcomputer in history – eventually changed the way people gamed on computers. After purchasing the Amiga project from the now legendary Jay Minor, Commodore rebranded the first Amiga (which was originally designed to be a console system) into the Amiga 1000 computer, which debuted in late 1985.
The Amiga line of computers were producing high quality 16-bit graphics and 4-channel stereo sound almost a decade before the Sega Genesis, Turbografx-16 and Super Nintendo were conceived. Gamers old enough to remember the Amiga – and lucky enough to own one back in the day – will remember that a lot of today's developers like Naughty Dog and Team 17 got their start on the Amiga computer.
Sadly, Commodore's mishandling of the Amiga brand eventually led to the company's demise in late 1994. During the time leading up to Commodore's demise, different Amiga models were released. The Amiga 500 was an all-in-one keyboard unit that came with a double-sided 3.5″ floppy drive and 512k of system RAM. This version of the Amiga was less expensive than the costly Amiga 1000, and it was aimed at families that wanted to play games, use productivity and program their own software. The Amiga 2000 physically resembled a set top box PC with plenty of expansion ports to install RAM cards, Video Capture cards (i.e. Newtek's Video Toaster), and the like. Most cable companies used the Amiga 2000 to display their scrolling channel guides (when channel guides were actually channels, and not a built-in feature of your cable receiver) up until the turn of the 21st Century.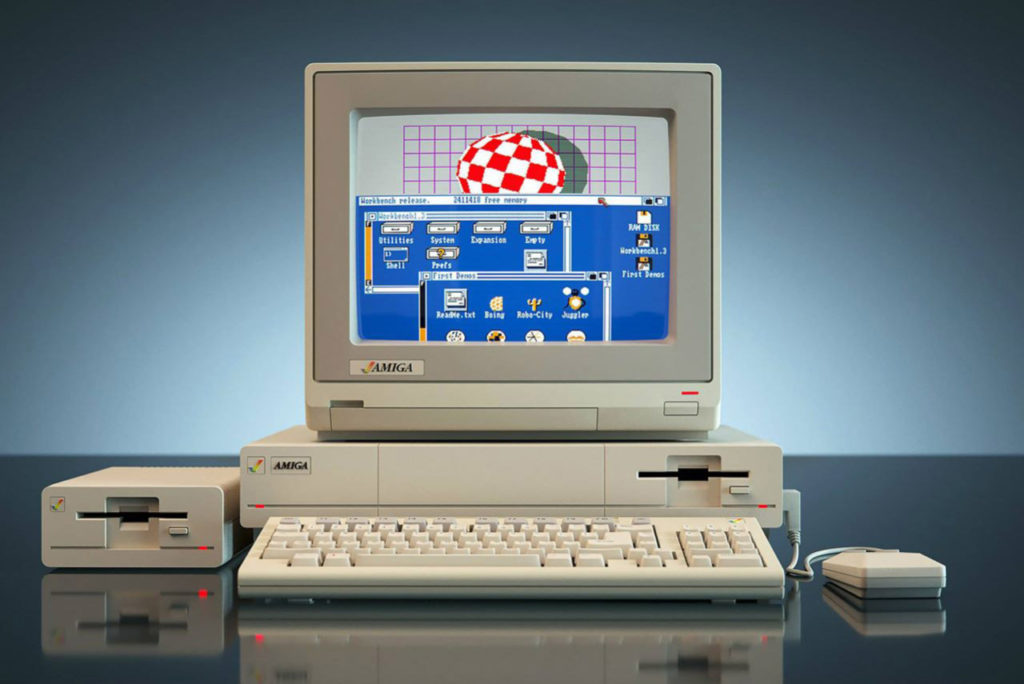 The Amiga 1200 and Amiga 4000 computers are revered as some of the best Amiga computers ever manufactured. They could display 256 colors out of a palette of 16 million colors (similar to VGA, but known as AGA), and they were backwards compatible with earlier Amiga software. These machines were the latest and greatest Commodore had to offer, and they were every bit as powerful and expandable as the competition.
The Armiga – What is it?
The Armiga is an Amiga clone that uses a dual-core Arm processor. There are two iterations of the hardware available: the Small Sized Edition and Full Edition. The Small Edition comes with a MicroSD card slot, and emulates an Amiga 500 with 1meg of RAM. The Full Edition comes with a built-in 3.5″ floppy drive, and is capable of emulating both the Amiga 500 and Amiga 1200 with 2MB of RAM. The Full Edition is as close as you can get to owning real Amiga hardware.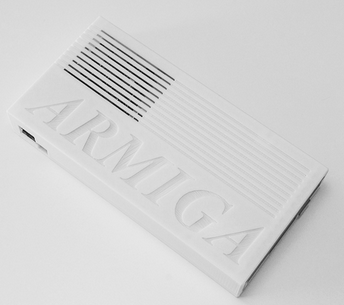 The Features:
The Armiga Full Edition (the hardware we received for review) came with 2 USB ports to connect a keyboard and mouse (not included), one HDMI port (HDMI cable included), an 8GB Class 10 SD Card with free games (i.e. Retro Wars, Solid Gold and Asgard Met Vikings), a power supply and a built-in Floppy Disk Drive. The package also includes (1) NES USB Gamepad.
For collectors, the Armiga's built-in Floppy Disk Drive is the best way to preserve an aging collection of Amiga floppy disks. Instead of booting the software, the Floppy Drive will copy the disk to the SD card in ADF (Amiga Disk Format) for emulation. As a collector of Amiga software, I was able to run some tests by backing up a few of my own titles (i.e. Alien Fires, Defender of the Crown, etc), and the process itself was surprisingly simple. For example: the back up process requires the user to insert one floppy disk at a time, as the Armiga automatically reads the disk and creates an image file on the SD card. This process can take about 2-4 minutes per disk to complete.
Playing Games:
At the time of this review, the Armiga does not come with a joystick/gamepad to play games. Luckily, most generic USB gamepads will work. The one used during this review was a generic, SNES-style USB gamepad, and it performed well. (UPDATE: Since the publication of this review, developer ArmigaProject has been packaging in USB NES gamepads with its Armiga units.)
With that said, the Armiga's performance was spot on during the games that were tested (i.e. Retro Wars, Solid Gold and Asgard Met Vikings). Even the games that were copied from floppy (i.e. Alien Fires, etc.) worked with no issue. Dare I say the aforementioned games performed better on the Armiga? In some ways they did, and this could be from the lack of a desktop environment and the resources it would consume. The Armiga is essentially emulating the bare minimum required (as far as Operating Systems are concerned) to run Amiga software, and the end result is surprisingly good.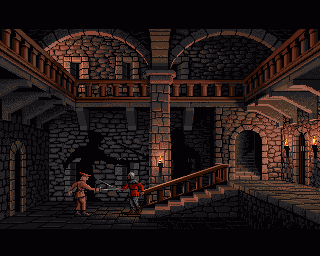 Why Buy The Armiga?
The Armiga serves many purposes. For starters, it instantly makes the Amiga computer accessible to people who are looking to game on a budget. Amiga hardware is expensive nowadays, and a quick search for an Amiga computer on eBay (and seeing the current prices for low-end models like the Amiga 500) is enough to make any man (or woman) sweat, and their credit card melt.
There's also the topic of hardware and software preservation. As retro computers age, their internal components (i.e. chips, capacitors, etc) begin to fail. Floppy disks are notorious for 'rotting' due to the magnetic media used to store data. With the Armiga, a user can preserve a large software collection that is well over 25+ years old, and have it readily available to play every time they turn on their Armiga.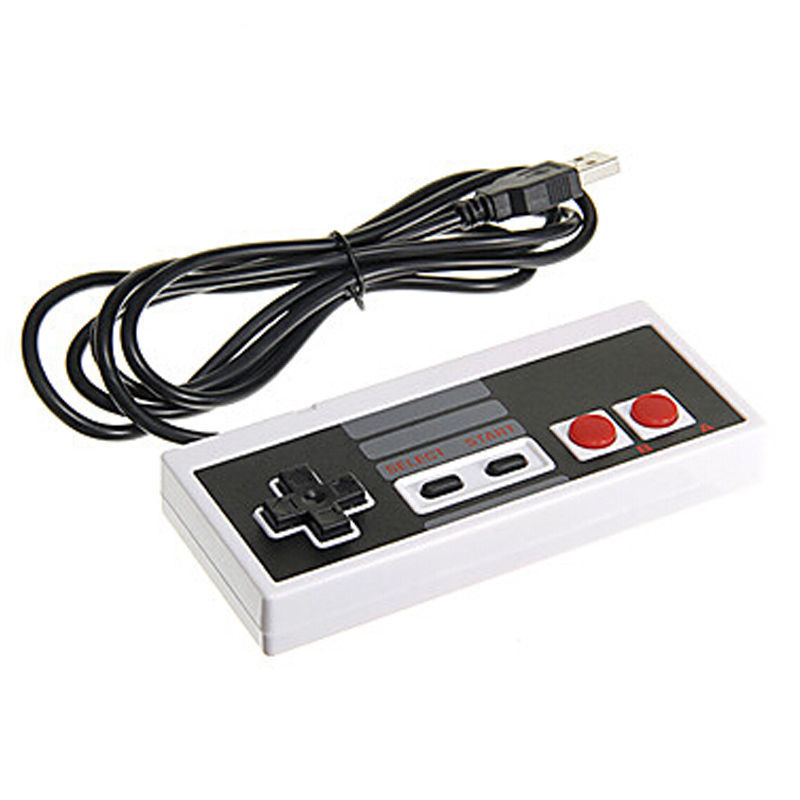 The Verdict:
The Armiga is a must-buy for any Amiga enthusiast. It's easy to use and it performs quite well as a gaming machine. Going forward, The ArmigaProject has promised to release future Firmware updates that will enable the Armiga to emulate different Amiga computers and configurations, which will provide more versatility to the end user. When you take all of this into consideration, you really can't go wrong with this incredible piece of hardware.
Price: 119,00€
Product Description:
●Kickstart 1.3 and 3.1 license
●8GB Class10 SD card with the software (ArmigaOS) pre-installed and 7 games (SQRXZ1-4, Retro Wars, Solid Gold and Asgard Met Vikings)
●HDMI cable
●Power source 100-240V – 50/60Hz, 5V-2.5A (EU, US, UK and JAP compatible) with standard european plug (some clients may need a plug adaptor) and power cord.
●Fully 3D printed, including FDD front and floppy eject button.
●Includes Floppy Disk Drive.
●Includes one NES USB Gamepad
Armiga Official Website:
https://www.armigaproject.com/product/armiga-full-edition/