December 31st, 2013 at 1:04 pm -
Aquapazza: Aquaplus Dream Match is a 2D fighting game based on a collaborative effort with Leaf to use character IPs from the following JRPGs –  Utawarerumono, Tears to Tiara and To Heart. Developed by Examu, Aquapazza merges these characters into a universe teeming with combos, partner assists and mind-blowing finishing moves called 'Splash Arts'.
Like most fighting games, Aquapazza includes a healthy selection of game modes that range from Story Mode to Training. Story Mode, as the name implies, is where you can experience the backstory of any of the thirteen available fighters and their 'assist' partners. The main objective is to prevent the evil witch Ma-Ryan from creating a love potion that will enslave all men. When Story Mode is completed, your fighter will become available in a second mode called 'Another Story'. This feature unlocks an additional story for every fighter that completes Story Mode. Aquapazza also includes a Versus mode (where two players can challenge each other offline), Score Attack (earn a high score while competing in various challenges) and Training (learn the moves of each character).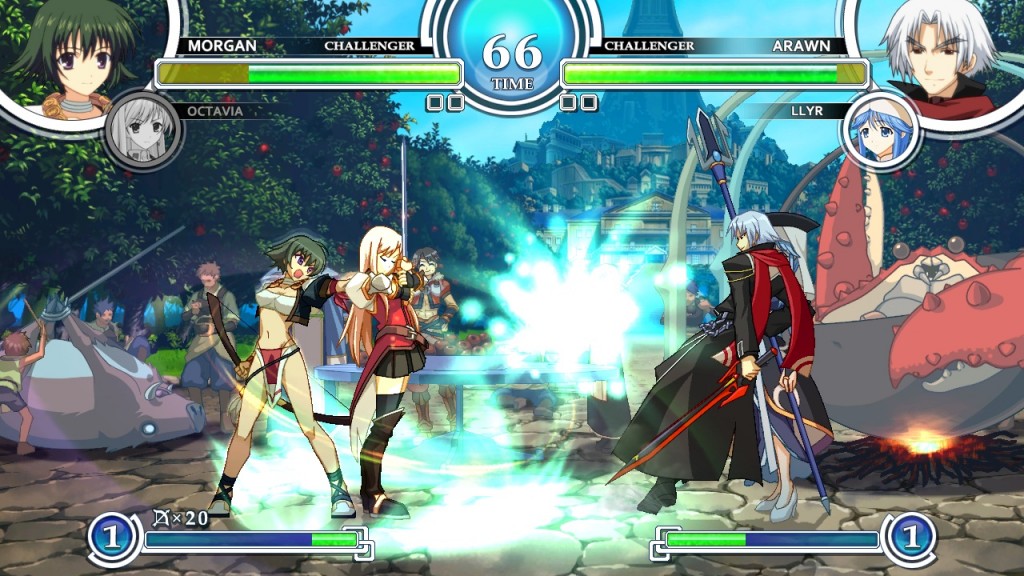 The gameplay, while not as technical as Blazblue Continuum Shift Extend or as fast-paced as The King of Fighter XIII, falls somewhere in between both titles with an easy to understand combo system that even a novice gamer can grasp very easily. Combat relies on a four button configuration like The King of Fighters, but the fourth button is used to call in your 'assist' partner to attack. Your assist partner is a CPU controlled character from a selection of 13 personalities. Among the selection of assist characters is Llry from Tears of Tiara and Ulthury from Utawarerumono, to name just a few.
Your 'assist' character plays an important role during combos. When called into combat, they can either start a combo (typically consisting of 6-12 hits) or work as a combo ender for some fighters. This all depends on the assistant character, though.
Rina Ogata from White Album uses area attacks based on her singing, but she never leaves the background. Rina can be used to start most combos, but this depends on your playstyle. Mizuki Takase, on the other hand, isn't the best choice for starting a chain combo. Since Mizuki is a close-range fighter, she leaves herself open to attack.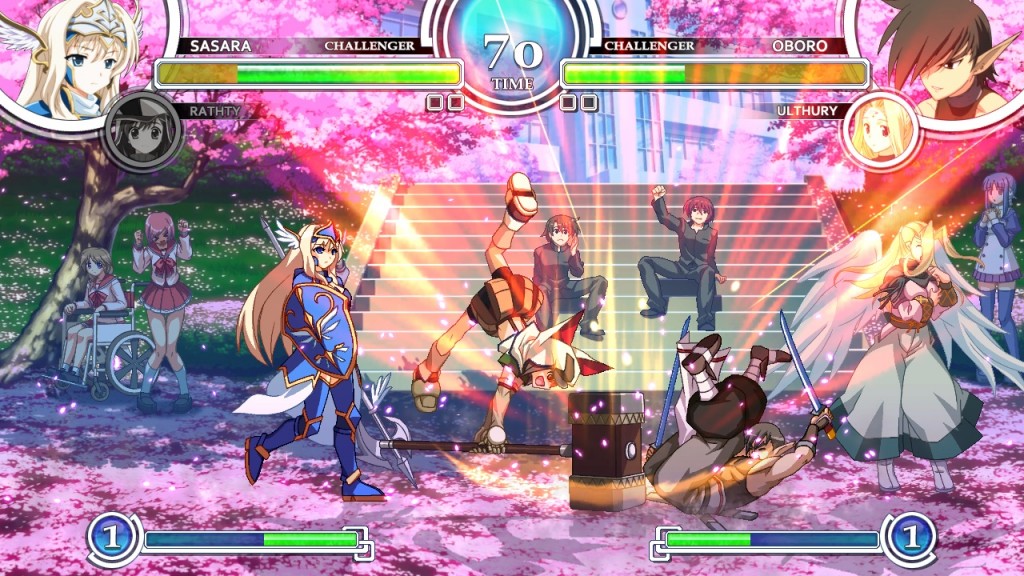 As mentioned earlier, the combo system is simple enough for even a novice to understand. You can easily perform a 3-hit combo with Oboro by pressing Weak Attack, Medium Attack and Strong Attack consecutively. This is not to downplay the combo system; an expert player can simply, and very easily, learn combos that have devastating results. The gameplay offers a friendly balance that is inviting to gamers of all skill levels.
New to the fighting genre is Aquapazza's Active Emotion System. This system heightens your character's emotions as you attack your foe or sustain damage. Like most fighting games, a Power Gauge slowly builds during the course of the match. Once your character becomes emotional (which is indicative of a red, shimmering aura), blocking too often will result in a Guard Crush, leaving your fighter vulnerable to attack. The only way to calm your fighter's 'bad mood' is to deal more damage than your foe.
Splash Arts are flashy 'desperation' moves that use three levels of the Power Guage. When executed, a Splash Art can almost deplete an entire health bar and immobilize your opponent. Since it takes time for the Power Gauge to fill, this move cannot be abused.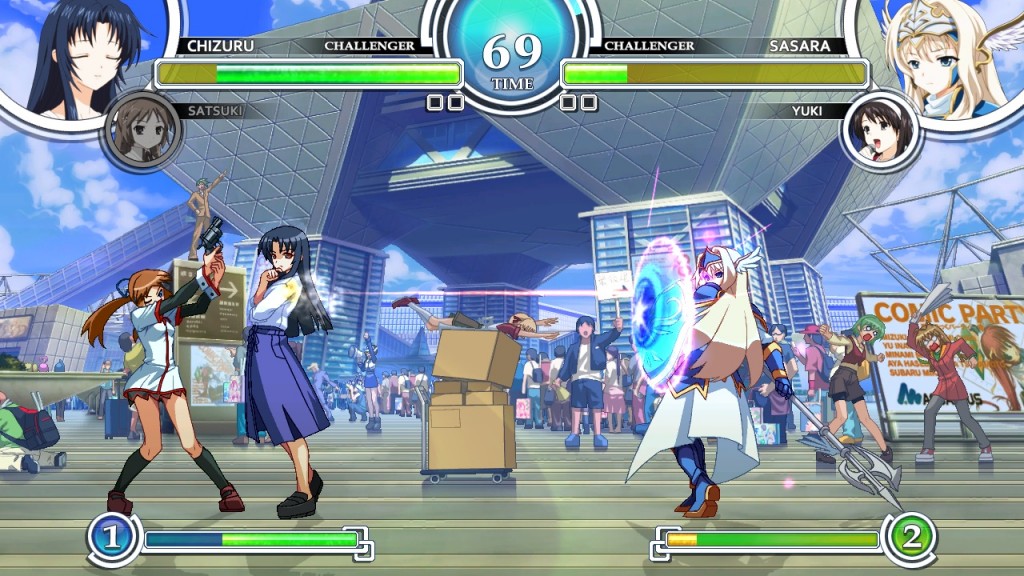 Aquapazza is a feast for the eyes with its brightly colored backgrounds and Manga-style animations that represent the fighters in the character select screen. When a Splash Art is executed, the screen fills with a large, animated illustration of your character performing the move. Moreover, the backgrounds are busy and contain some of the best detail ever seen. For example: in the level Apple Grove, a giant crab sits in an oversize stew pot that rotates on its base, while a waitress serves refreshments to the patrons standing in the background. It's small details like these that help Aquapazza stand out as a fighter.
Gamers looking for a new fighter should look no further than Aquapazza: Aquaplus Dream Match for Playstation 3. Its likable cast of characters, user-friendly combo system  and rock-solid gameplay give it all the hallmarks of a cult classic. If you haven't already, add this one to your collection today; you won't regret it.
Mike Pittaro
Platform: Playstation 3
Developer: Examu
Publisher: Atlus
ESRB: T (Teen)
Price: $29.99
Aquapazza: Aquaplus Dream Match's Official Website
Review Score
Graphics
Gorgeous 2D graphics and smooth animation
Sound
An impressive soundtrack accompanies the action.
Gameplay
Aquapazza's combat system is akin to AAA titles such as Blazblue Continuum Shift Extend and The King of Fighters XIII.
Overall
Hardcore gamers will find Aquapazza's characters likable and the gameplay competitive.