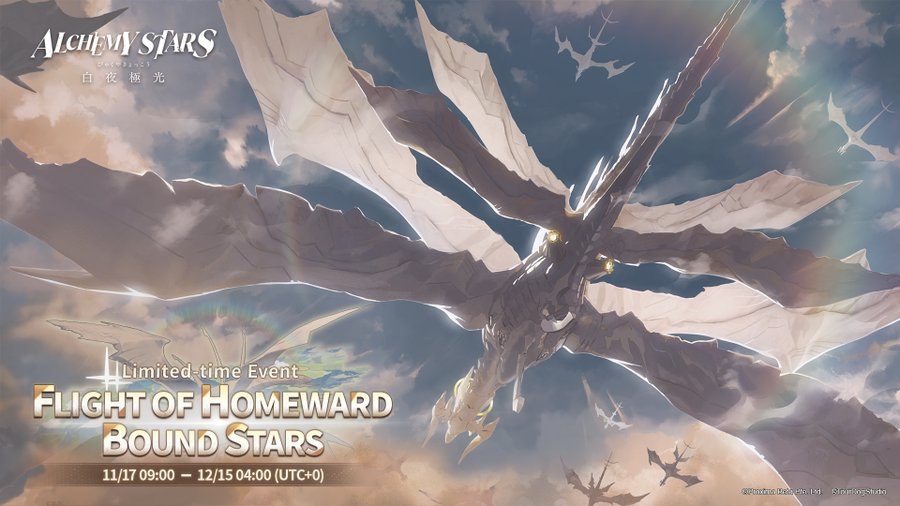 November 18th, 2022 at 4:25 pm -
Fall content includes the release of new story chapters, alongside special limited time events to usher in the season of giving. A series of new story chapters are immediately available, with the Solamber of special 6-star Aurorian Vice: Keen Knight distributed to those who are able to complete Episode 14. This will coincide with several main story focused events and the Axelia's Laboratory limited time event.
You can find a list of what to expect once the November 17, 2022, update rolls out below:

●

New Main Story Updates: Episode 13 and Episode 14

Clear Episode 14 to receive the Solamber of Aurorian Vice: Keen Knight.

Main Story Campaign Event – Hourglass of Fate will provide Lumamber and Recharge Packs as rewards, and will remain available until December 14, 2022.

●Limited Event: Flight of the Homeward Bound Stars

Axelia's Laboratory will be available for a limited time! Receive special rewards by participating in the event until December 12, 2022.

Special log-in event will distribute daily rewards to players until December 14, 2022.
●New Aurorians join the roster of Alchemy Stars

6-star Aurorian Axelia and 5-star Aurorian Beretta have appeared as part of a special Heavenly Wings recruitment banner until December 14, 2022. However, they will join the standard recruitment banner once this period ends.
Assemble Your Very Own Idol Group in Alchemy Stars!
But that isn't all! Tourdog Studio is holding a special contest, where you can vote for up to 5 of your favorite characters and see who makes the cut! Those who are voted most popular through the poll will appear in the idol group. You can vote for the mysterious Sariel, the uncouth military general Barton, and even the capable sword master Hiiro.
All voting will be conducted through a Google Form. But don't be afraid of sharing who you voted for on social media with special hashtags.
The polls will be open from November 15 to November 30, 2022! So don't forget to cast your votes to see your favorite character potentially emerge in the top 5 and join Alchemy Stars' very own idol group.
Thanksgiving is Coming to Alchemy Stars!
Additionally, Alchemy Stars will also host several Thanksgiving events. Starting on November 24, 2022, the drops for items and resources will double, and a 5-star guaranteed Aurorian banner will appear. Additionally, new content will be added to the Cloud Gardens for you to enjoy. This includes a new hard mode for fishing, along with three new diary events.
Alchemy Stars seamlessly merges magic and technology in both its world and mechanics. The game's innovative combat blends RPG, "Gacha", and strategy elements, with each stage presenting a fresh challenge. You can collect tons of unique characters, create their ideal party, and battle using the game's unique tile-connecting gameplay.
In the world of Alchemy Stars, light and darkness collide. Aurorians and Caelestites have lived peacefully on the land of Astra for hundreds of years until they are forced to face a mysterious threat: dark creatures known as Eclipsites, sent to exterminate the Caelestites. While exploring the world of Astra, you will discover the six distinct factions in the game and will traverse a beautifully designed 2D world.
Alchemy Stars is available as a free download for Android and iOS devices via Google Play and the Apple App Store.
Promo Trailer: