January 25th, 2022 at 4:48 pm -
Publisher Serenity Forge and developer White Rabbit today revealed that the adventure of a lifetime (does it count as a lifetime if it takes place in the afterlife?) is far from over, because the critically acclaimed Death's Gambit: Afterlife is launching physically today on Nintendo Switch with the Definitive Edition. The physical package features a sticker sheet, double-sided poster and illustrated inner coversheet for fans, available at your favorite retailer or the Serenity Forge store now:
https://store.serenityforge.com/products/death-s-gambit-afterlife-definitive-edition
Hailed as the "definitive version of an excellent game" by GamesRadar and with high praise across international critical media outlets, Death's Gambit: Afterlife more than doubles the size of and refines the original Death's Gambit, which launched in 2018.
A 2D action Metroidvania with slick combat that requires precision from its players to master its expansive combat options, the Afterlife expansion of Death's Gambit added 10 new levels, 22 new weapons, 100 talents, skills, storylines, cinematics, gameplay enhancements and much more to make it the definitive edition of the game to date.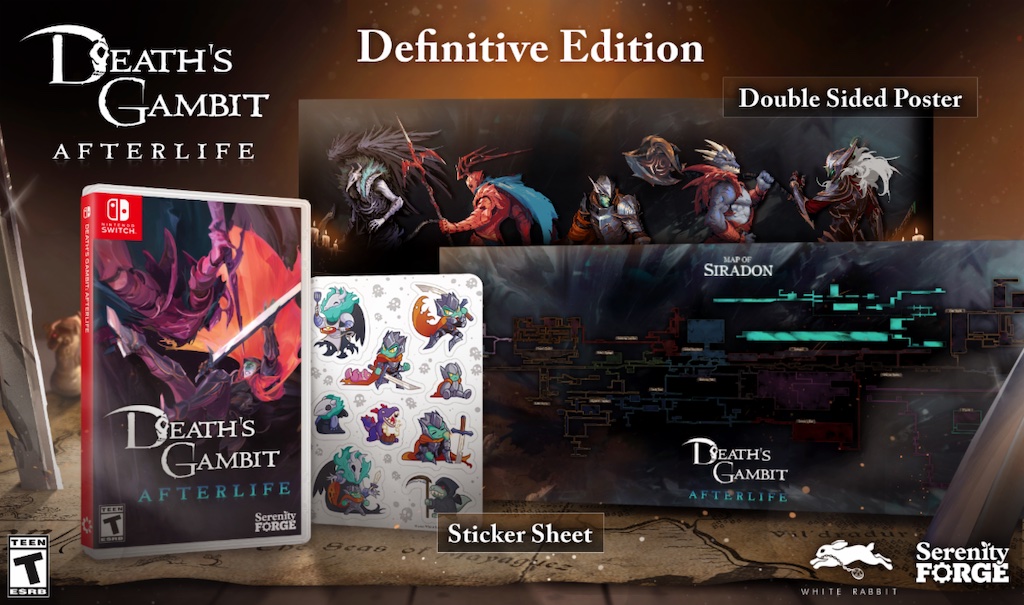 Beyond today's physical launch on Nintendo Switch, Death's Gambit: Afterlife hits Xbox platforms digitally this Spring, with the game's newest DLC pack, Ashes of Vados, launching on Steam next month on Feb. 10 for $7.99 with a 35% launch discount during its first week of availability. Ashes of Vados will come to PlayStation and Nintendo Switch this Spring andwill launch alongside the Xbox One and Xbox Series X|S versions of Death's Gambit: Afterlife for an additional $7.99.
Ashes of Vados introduces a brand-new boss encounter with a drastically different heroic boss variant that will conclude the final story thread of Death's Gambit: Afterlife. In addition, Ashes of Vados will test your mettle with the ultimate platforming challenge level and a new Arena with both boss rush and horde mode. The DLC will also spice up new runs of the game with alternative game modifiers that completely flip the experience on its head, with modes like randomized items, heroic forced and hardcore mode. All of these new challenges come with their own set of rewards, so go out there and conquer Ashes of Vados.
Screenshots: