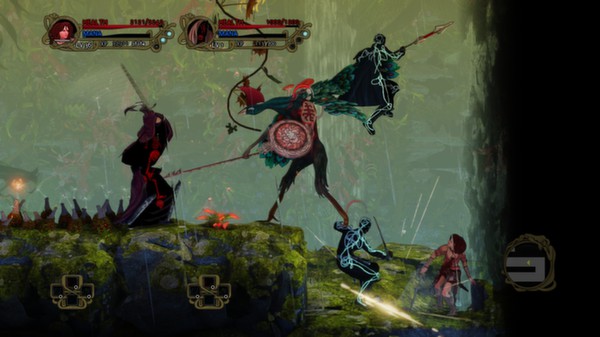 October 15th, 2014 at 8:48 am -
Abyss Odyssey by Atlus is a fast-paced platformer that is akin to the classic side-scrolling series, Castlevania. If you are familiar with side-scrolling role-playing games of any type, then this RPG will not come as a surprise to you.
The game starts with one playable character, Katrein, with two additional characters visible, but not immediately selectable, from the character select screen. These additional characters, along with 37 other playable characters, unlock as you progress through the story. Abyss Odyssey is not your average platformer; its nonlinear gameplay is on par with most rogue-likes. The world map constantly changes and the enemies are never the same; this makes the game fun and even unpredictable during every play through.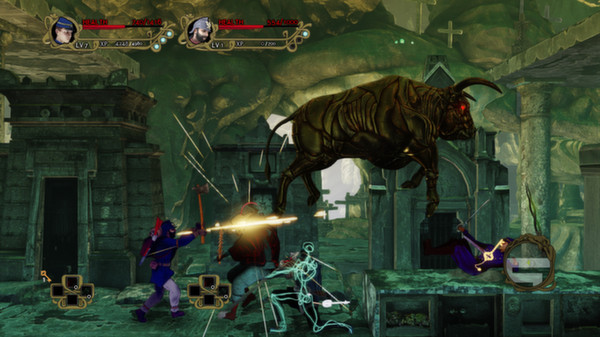 Moreover, the player can choose their own path during the game, as their descent into Hell offers multiple paths. Plus, Abyss Odyssey's playable characters all come with their own unique skills, weaponry, and play styles. No two characters play or control alike.
What sets Abyss Odyssey apart from other games in the genre is its unique approach to combat. Regardless of the poltergeist (character) being used, the player can capture the souls of slain enemies and then morph into a monster's physical likeness. This feature grants you the creature's skills, special abilities and powers.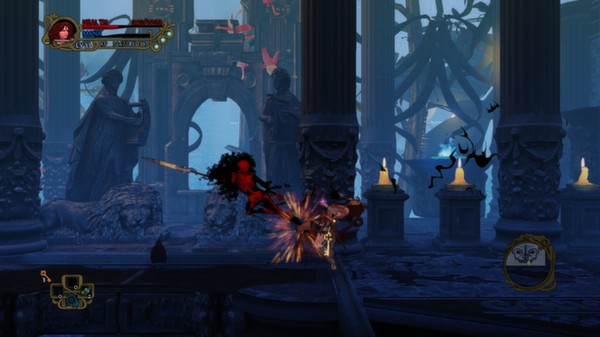 Capturing the souls of your enemy is no easy feat, but the payoff is rewarding and at times necessary. The biggest advantage to using enemy souls is that it will help you survive those difficult levels that much longer. Once you transform into a creature, your physical health – no  matter how depleted it may be – no longer applies. It's also a great way to save yourself from dying when you're low on physical health,  and need to reach a shopkeeper or return to town.
What makes Abyss Odyssey a difficult game to master is the lack of save points; it's also the biggest gripe gamers have with the series. There is no option available to save your in-game progress; an auto saving feature keeps track of everything when you purchase tokens from a shopkeeper.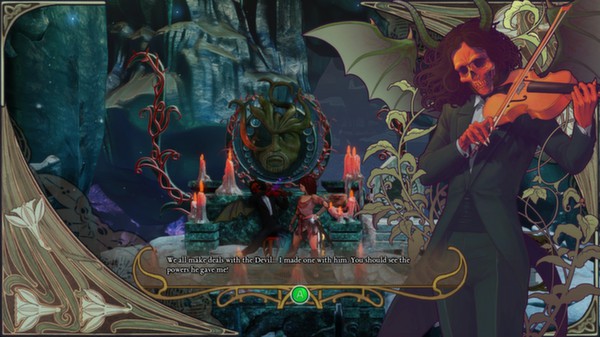 Once you activate a token at a designated campsite, guards will spawn and protect that location, allowing you to continue from that location when you die. While tedious, it's necessary to save your progress. This inconvenience is offset by the ability to quick travel to any city that has been previously visited. This may not seem like an important feature at first, but once you realize that all three cities are located on different levels of the abyss, it becomes a time saver. Besides, it's the quickest way to reach a location that you previously died in (especially if you don't have any save tokens). And without the fast travel feature, you would have to replay previously completed levels.
Countless platformers have tried to mimic the classic 2D Castlevania series, but have always fallen short. Abyss Odyssey invokes all the drama and emotions that only a 2D game of this scope can.
James 'Daripp3r' Pittaro
Platform: PC
System Requirements:
OS: Windows XP, Vista, 7
Processor: Intel Core 2 Duo 2.4 GHz or AMD Athlon X2 4800+
Memory: 2 GB RAM
Graphics: ATI 3850HD 512 MB or NVIDIA GeForce 8800 GT 512MB
DirectX: Version 9.0c
Hard Drive: 4 GB available space
Developer: ACE Team
Publisher: Atlus
ESRB: N/A
Price: $14.99
Abyss Odyssey's Official Website
Review Score
Graphics
Some of the best graphics in a 2D platformer.
Sound
Entrancing music that resembles Castlevania.
Gameplay
Incredibly addictive old-school gameplay with a modern flare.
Overall
Hands down, the best platformer of 2014.