December 14th, 2013 at 3:07 pm -
For those who know me well enough — and even those who don't — know just how much I enjoy a good puzzler, especially if it's one that's unlike any other I've ever played before. And this is exactly where Ty Taylor and Mario Castaneda's creative creation, "The Bridge" comes in.  Just when I started thinking to myself just how different could this game possibly be, I quickly changed my tune the very moment I started playing.
TB is a 2-D mind-bending masterpiece that begins with the main character (whom inexplicably remains nameless) snoozing underneath an apple tree. You are prompted to shake the tree, which in turn causes one of the apples to drop on the character's head, thus beginning the game. And please keep in mind that the beginning is truly the easiest part.  If you think this is going to be some kind of run-and-jump puzzle platformer type game, it's anything BUT that.
Instead, TB forces you to reevaluate any preconceptions of perspective and physics, as you attempt to guide your character towards an exit door to complete a level by manipulating the gravity of the environment that surrounds you. Oh, and did I mention that your character doesn't jump?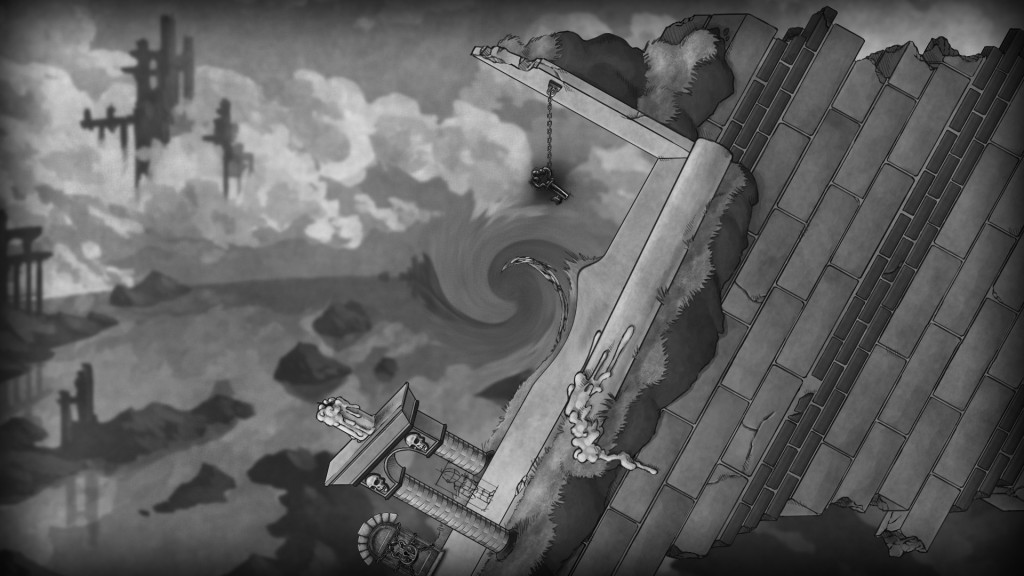 In a way, one could say that TB is an artsy game, as each of the game's 48 puzzles (24 main story ones, 24 alternate versions) are heavily inspired by M. C. Escher's artwork. The graphics in this game are absolutely gorgeous — everything is hand-drawn, in black-and-white/grayscale style. While there isn't much to say of the environments per se, the puzzles themselves are very intricately drawn and are mesmerizing.
I caught myself on multiple occasions being in an almost hypnotic trance from being in awe of the excellent artwork, while not paying the slightest bit of attention to my character as he plummets to his untimely demise.  For the sounds in TB, the background soothing music perfectly accompanies the action; you won't hear any eardrum pounding tunes or sound effects here.
So what about the controls and gameplay for such a good looking puzzler?  Even though you only have to be concerned with using the control stick and the trigger or bumper buttons, it's how you use the aforementioned triggers or bumpers that make TB so interesting.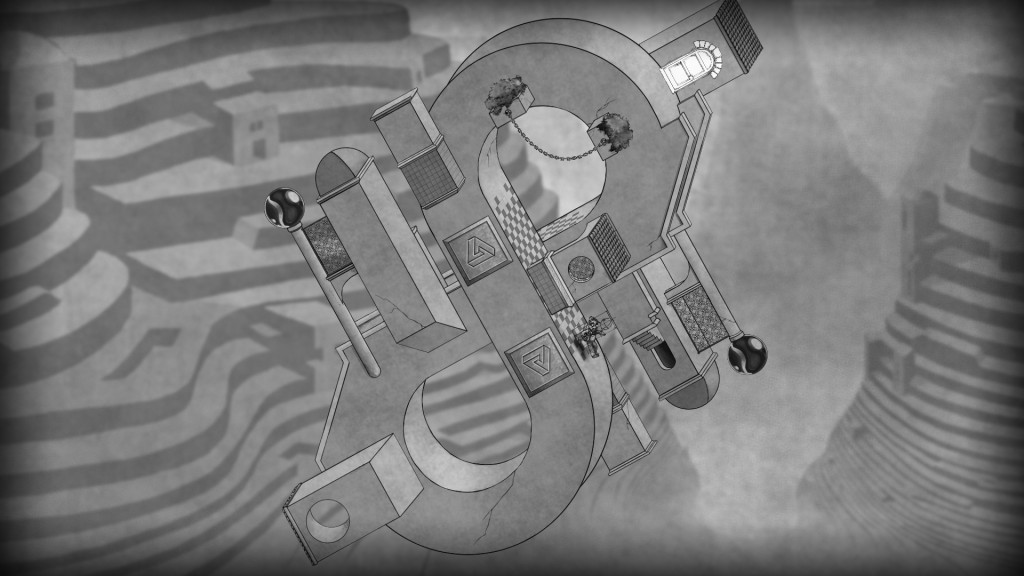 As I mentioned before, there's no jumping allowed in this game. At first glance, of one of the early puzzles you'll think to yourself, "How the hell do I get to that exit door up there if I can't jump?" But since M. C. Escher's artwork manipulates the perspective and gravity at every angle and turn, that's exactly what you must do in order to solve each puzzle — rotate in clockwise or counter-clockwise fashion in order to avoid plentiful pitfalls and make it to the exit door so you can move on to the next room.
And don't worry about losing any lives either; you can literally rewind to your heart's content should you happen to make a mistake (and trust me, mistakes will be a-plenty).
I honestly couldn't find any general fault with TB, other than it being frustrating. But on the flipside of that, it's highly addicting and being able to backtrack your mistakes is a very nice touch.  TB is a real test and treat, all at the same time.

Sean Boley
Platform: (Available on XBLA)
Developer: Ty Taylor and Mario Castaneda
Publisher: Midnight City
ESRB: T (Teen)
Price: $9.99
Review Score
Graphics
Everything is beautiful andsimplistic, yet breathtaking.
Sound
Good idea to have calming music to balance the not-as-calm brain.
Gameplay
Very nice change of pace from swapping gems or stacking blocks.
Overall
Very fun for a very frustrating challenge.