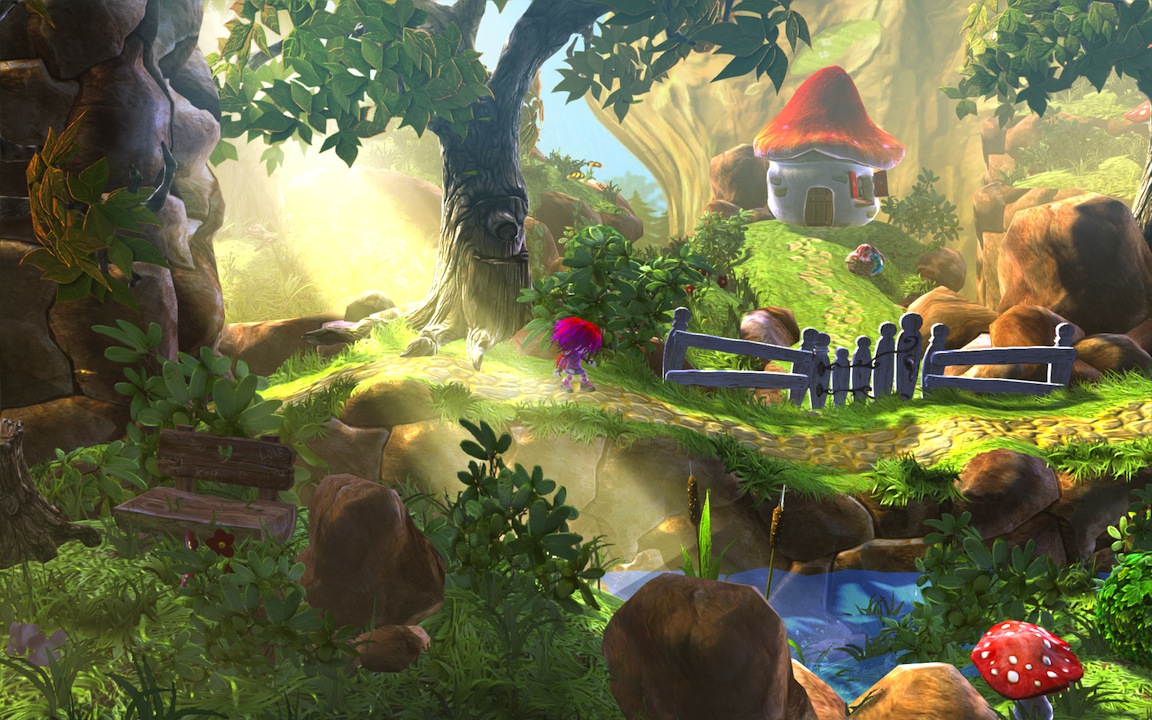 March 23rd, 2013 at 9:39 pm -
During a time where jaw-dropping video games rule the current consoles, nowadays us gamers are finding more and more retro titles surfacing (or resurfacing, as the case may be) — and Giana Sisters:  Twisted Dreams (originally known as "Project Giana") from Black Forest Games is certainly no exception to the retro rule.
This game is actually a Kickstarter-funded sequel to the highly acclaimed and criticized cult classic of the 1980's, The Great Giana Sisters.  In this latest iteration of the series, Maria gets abducted to Dream World, where she is then held captive by a giant dragon – leaving it up to you and Giana to go to Dream World and rescue Maria, while all the while having the ability to transform on the go between her cute and punk girl personas, manipulating the dreams as you progress.
GS: TD boasts 23 gorgeous levels that are scattered through 3 areas, with an end boss level at the end of each area. Using Giana's transforming ability allows you to cause the environment to drastically change around you in real-time to help you solve puzzles.  For example, when playing as "Cute Giana", you'll go through a dark, nightmarish looking world but the moment you switch, you'll see the much lighter and more colorful Dream World.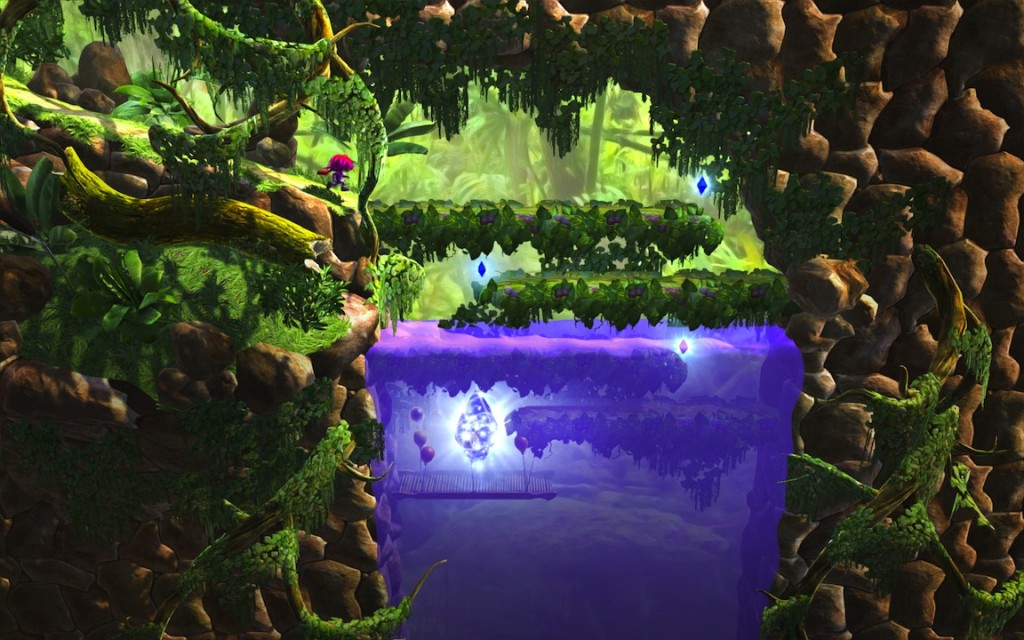 While the overall sounds of this game are minimal at best, it's the in-game music that truly complements the graphics in every sense — the tunes are composed by Chris Hulsbeck and Machinae Supremacy, with additional help from Fabian Del Priore. Depending on which persona you're playing as, you'll either hear lighter symphonic sounds as "Cute Giana" or heavier metal mayhem as "Punk Giana". And should you be in a transforming frenzy kind of predicament, the music will change seamlessly along with the persona-switching.
The gameplay in GS: TD is entirely simple and straightforward as a retro nod of a game. But aside from all the regular running, jumping, and sometimes swimming, instant transformation isn't the only trick up Giana's sleeves, as she has a spin jump technique in her cute form and a fiery dash technique when in her punk form. Then add some puzzle solving, trap disarming, and diamond grabbing to the mix, and you have the makings of a solid platformer.
Although the game sports mighty nice graphics, sound, and decent gameplay, there were some faults that I came across. On the day of the game's launch on XBLA, I discovered that not only was I repeatedly disconnected from XBox Live each time I played (only to be immediately reconnected the second I'd exit the game), but my achievements also weren't being recognized and recorded.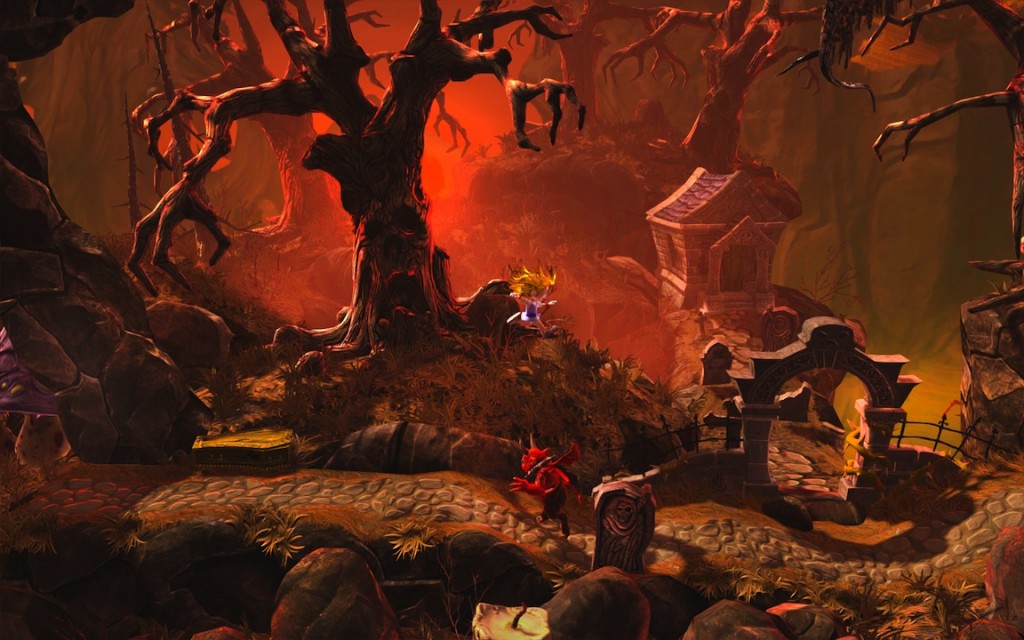 After checking into the issue further, here is what was initially said on GS: TD's Facebook page at launch time, via Twitter:  "Hey #xbla fans if any of you are having that weird disconnecting from Xbox live problem, we are fixing it! #gianasisters #xbox #bugssuck".
And then when some folks had asked about the achievement bug, they later said "actually that's something MS has to fix", followed by "MS identified the source of the issue and will resolve it shortly". With that being said, it appears that at the time of this review that whatever had caused those issues earlier has in fact been fixed since then, and all seems to be in much better working order.
But besides those bugs and loading that seems to take much longer than what it should, there's still plenty to like about GS: TD for series' veterans and newbies alike. And if you're just feeling that need for something really retro-ish with a funky facelift and a transforming twist, then this game will help scratch such an itch.

Sean Boley
Platform: XBox 360 (XBox Live Arcade)
Developer: Black Forest Games
Publisher: bitComputer Entertainment AG
ESRB: E (Everyone)
Price: 1200 Microsoft Points
Giana Sisters' Official Website
Review Score
Graphics
Definitely VERY beautiful backgrounds, even when navigating in the nightmare world.
Sound
If it weren't for the excellent music, there'd hardly be any sound at all. Very nice job with the tunes.
Gameplay
Certainly nothing real fancy here. The on-the-fly transforming is a nice touch though, along with time and score attack modes.
Overall
With bug issues and lengthy loading set aside, it's a decent retro remake.