June 10th, 2010 at 8:07 am -
Hooked on Fishdom?  With new icons and new aquariums to explore, Playrix has created yet another addictive game in Fishdom 2.  With 3 aquariums to unlock; Ranch, Egypt, and Merworld and new icons, you will find yourself being lured in. There are bonus mini-games where you can earn either fish or money by finding all the hidden gems in the aquarium (move the decorations around to find them all).
If you can not find a gem, you can get a hint. There are new decorations to go along with each theme as well as new fish.  When you have filled the three meters that measure fish, decorations, and comfort completely, you will recieve a cup.  First is the bronze cup, then silver cup, and finally gold cup.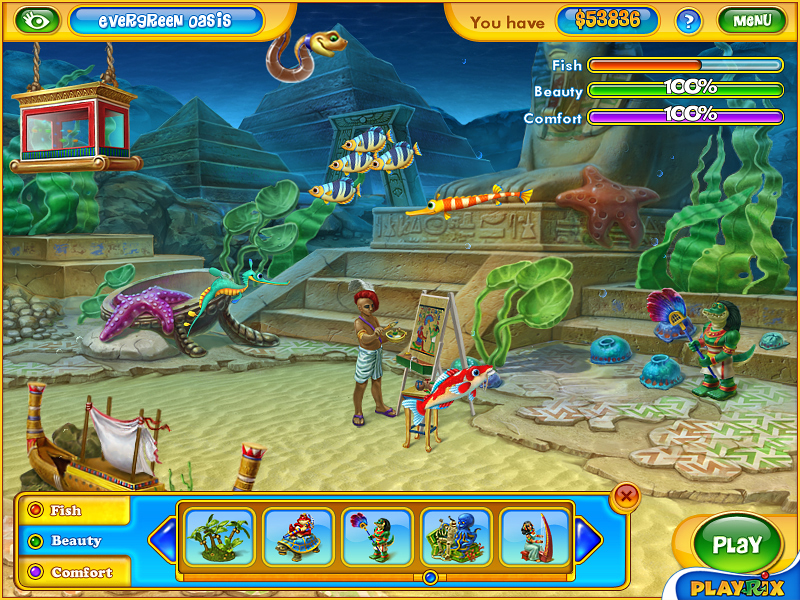 I found this game had more challenging puzzles than the other versions that I have played.  I had to replay level 88 many times.  I was 1 block from completing it when time ran out more than once.  Once again, the timed version gives you more of a feeling of urgency than when playing the non-timed version.  As with the other versions of Fishdom, you get a cup bonus when you complete each level after achieving your first cup. The cup shape varies depending on which aquarium is being filled.
I loved the new icons.The whales blow water out of their blowholes, the crabs move, the diver's helmet opens and closes, plus a few more.  The old icons appeared when I had to repeat level 88. The mix of the old and new icons added something new while keeping a sense of familiarity.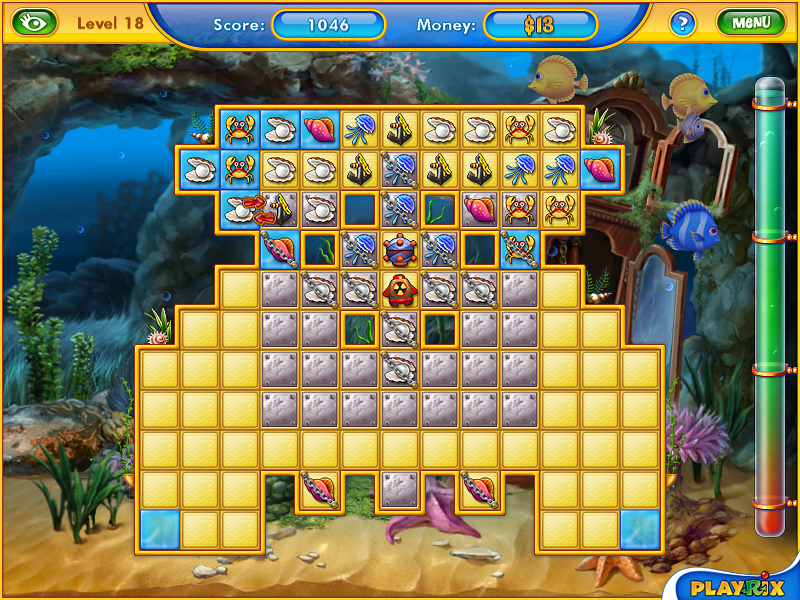 Fishdom 2: Premium Edition includes many extras, including your choice of many wallpapers with your favorite Fishdom characters such as the sea turtle, many fish, and even the Playrix dragon with a mask and fins. There is the choice of two screen resolutions: 1600 X 1200 and 1920X1200.
There is the option of picking one of your aquariums as your screensaver.  It is very relaxing to just sit back and watch as the fish swim around and interact with each other.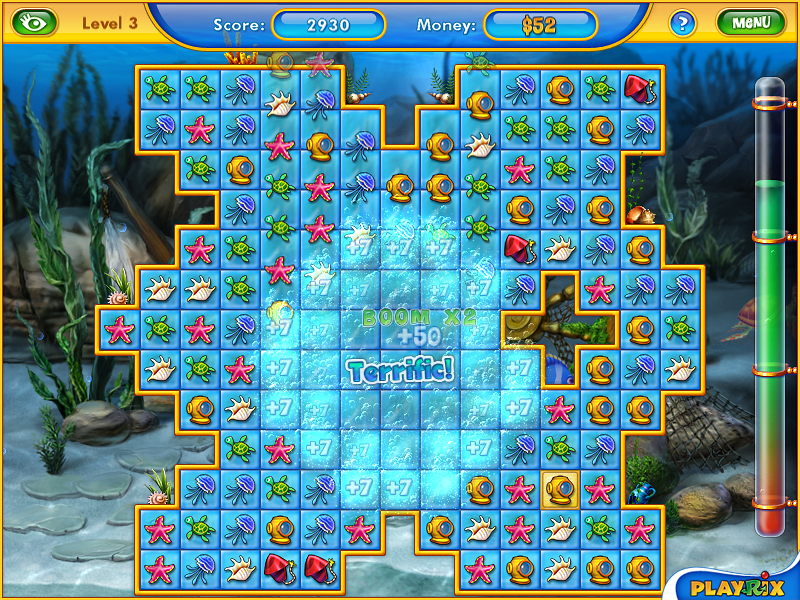 The Fishipedia gives you fun facts on each of the fish found in Fishdom 2.  The original soundtrack has 9 tracks for your listening enjoyment.
Playrix has improved on the original Fishdom games and has created yet another addicting game that I said "Just one more time"  and 3 hrs later, I was still playing.  I admit it, Fishdom has reeled me in hook, line and sinker.
Dani P
Price: $19.95
Platform: PC
Developer/Publisher: Playrix
Developer's– website
Review Score
Graphics
Beautifully drawn, well animated.
Sound
The music is very relaxing.
Gameplay
Gameplay is very smooth, easy to understand, and addictive
Overall
Fishdom is a great game for everyone in the family and well worth the money
Fishdom 2: Premium Edition (Review) PC

,