June 10th, 2010 at 8:30 am -
I'm perfectly amicable to abusing animals. "Cat football" was one of my first internet searches and my all-time favorite name for a pet is "Punt." It's a well-known phenomena among family and friends that their shelter rejects invariably plant themselves in my lap for interminable stretches as a sadistic form of revenge.
So Boxing Zoo ought to be the ideal Punch Out clone to tote around on my iPod for occasions when I can't escape the recliner without incurring claw gashes. It lives up to its promise in almost every way: Witty cartoonish opponents (and three-eyed ring girls) that get increasingly bandaged and bruised, quick and campaign modes, and a control scheme where finger sweeps throw blocks and punches for each hand.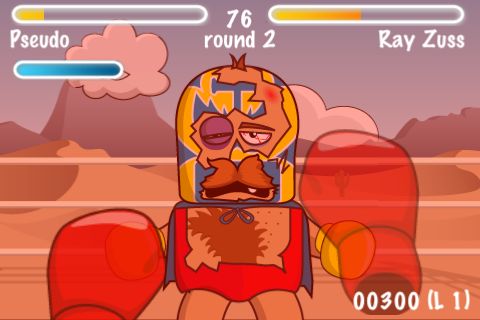 It's the actual boxing that gives this app a black eye.
A brief non-interactive tutorial adequately explains the controls and knockout criteria. You can then train against your choice of the six opponents, or fight matches in arcade or survival modes. The fighter who wins two out of three 90-second rounds by wearing down the opponent's life bar prevails. Another meter to keep an eye on is vitality, which decreases by half each punch and is restored a couple of seconds later. That means you can throw two-punch combinations at most, a limitation that doesn't feel unreasonable in this surreal arena.
Your fingers control two largish gloves you can hold up as protection or lash out with to attack. At least in theory. Reality is more vague as landing punches seems more about luck than precision of aim, and either I or the controls are equally inept at defense. Luckily, I suppose, my opponents are also somewhat slow and/or clumsy, with not a lot of discernible differences among them, so my odds of prevailing are something along the lines of a coin flip.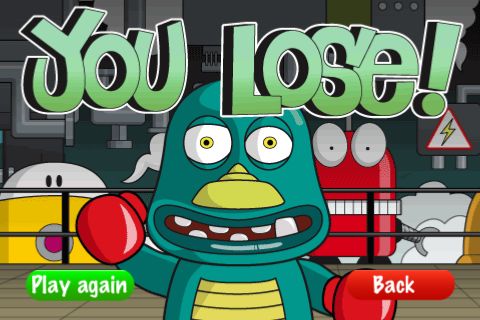 This is one of those apps I'm hoping gets an update since I actually prefer quirky, quick and simple to dark, sweaty and menacing in my boxing games (other than manager-type sims, for which I'm a pathetic devotee in all sports). Meanwhile I'm stuck using "lap time" to browse for "noises to torment cats with."
By Mark Sabbatini
Boxing Zoo by Recherche Developpement Mobile
$0.99
Platform Reviewed: iPhone/iPod (Requires iPhone OS 2.21 or later)
Category: Sports
Languages Supported: English, French, German, Japanese, Spanish
Rating: 9+ (Infrequent/Mild Cartoon or Fantasy Violence)
File Size: 11.3 MB
Boxing Zoo (Review) iPhone/iPod/iPad

,