April 24th, 2010 at 10:39 am -
Deep Blue Sea 2 by The Game Equation, is a unique match 3 game, one that bucks the norm and gives players the option of doing some hidden object searching (which is actually well implemented). The Game Equation took 2 years to develop, polish and tweaking and it shows in the final game.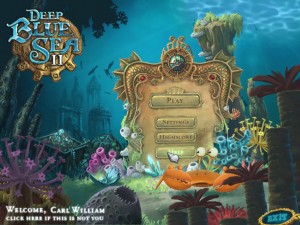 Taking on the role of Melissa, you embark on a search for her older sibling, Jessica who went missing two years ago. What sets Melissa off on her quest is a tattered postcard that she receives that seemingly was sent by Jessica, 8 months prior (16 months after she went missing). Upon arriving at Billinger Island's Naval Museum, you are thrust into a wild adventure of diving for artifacts and finding missing items for a forgetful local (which earn you money for buying supplies and also experience for upgrading your divers-more are added as you venture further into the quest).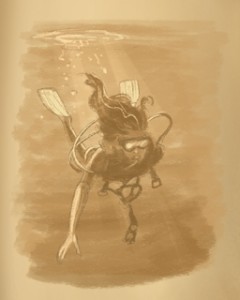 What separates Deep Blue Sea 2 from other similar titles is the inclusion of the hidden object levels (which are optional). Taking on the challenge of finding the missing items gives you money that you can use to purchase much needed supplies to continue recovering artifacts that you need to complete the various match 3 levels.
The match 3 gameplay is great, feels right and is a smooth experience. I really like is that you aren't restricted to waiting for the matches to finish to make another like in many games of this type (which can make the play field seem quite hectic if you are a more experienced puzzle gamer). Since you are diving, you are limited in air supply (you did purchase additional oxygen tanks at the shop right?) so recovering the artifacts can become hectic and sometimes worrisome when you are nearing the end of your oxygen (don't worry, no one drowns here, you simply return to the surface and must restart the level if you run out of air).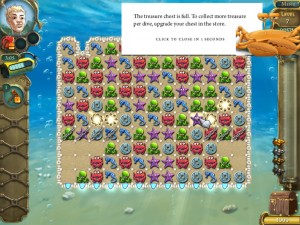 As you play, new divers will make themselves available to you and this becomes another unique feature that is missed in other match 3 games. Not only does choosing the right diver come into play but you need to make sure they are upgraded accordingly because later levels can become quite a challenge if you aren't using the right diver. While not on the level of something like Puzzle Quest: Challenge of the Warlords, it is still a welcome addition and one that makes you wish more publishers would push the envelope of match 3 gaming.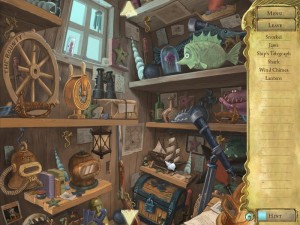 Match 3 fans will love Deep Blue Sea 2, hidden object fans will want to try the demo out first but they may find they are fans of the other casual genre too.  Bottom line, casual game fans will find something in Deep Blue Sea 2 that will make them want more so get it now.
Review by Carl "triverse" Williams
Rated 8 out of 10
Deep Blue Sea 2 by The Game Equation – website
Genre: Match 3/Hidden Object
Available: Now
Platform: Windows and Mac OSX
Deep Blue Sea 2 for PC Review (Match 3 Fans Go Ahead, Buy it Now)

,