April 13th, 2010 at 10:38 am -
Paradox Interactive, developers of the best strategy titles available today, have just released a set of tutorial videos for Mount & Blade: Warband. While these videos give looks at the features that set Warband apart from similar titles, they also walk players through Calradia then off to the advanced tactics needed to be a force to be reckoned with on the battle field in multiplayer mode.
Mount & Blade: Warband is not your easy combat, cookie cutter game, it requires skill and dedication but you'll get richly rewarded for your efforts" said Mattias Lilja, Producer at Paradox Interactive. "I still get my butt kicked every single time I get on the servers so this tutorial series might mean I could actually get ahead in the game", he continued.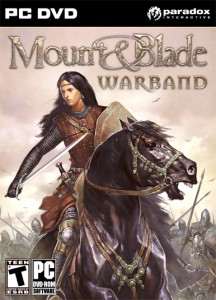 The first tutorial series include:
Episode 1 – Getting Started
Episode 2 – Siege Warfare
Episode 3 – Trading and Pillaging
Episode 4 – Army Command
Episode 5 – Advanced Combat
For the videos head over to the Paradox Interactive Youtube page.
Mount & Blade: Warband website
Paradox Interactive website
Follow Paradox Interactive on twitter
Become a fan of Mount & Blade on Facebook