September 25th, 2009 at 12:43 pm -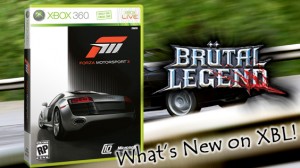 Two of the most anticipated October releases finally arrive in demo form on the XBL network.  Forza Motorsport 3 by developer Turn 10 is the highly anticipated sequel to Forza 2. Burn rubber in single-player mode or online in over 400 of the world's greatest cars on 200 tracks.
Brutal Legend by developer Doublefine is now available in demo form on XBL. Get ready to rock some demonic heads in this action-packed adventure.