September 22nd, 2009 at 1:04 pm -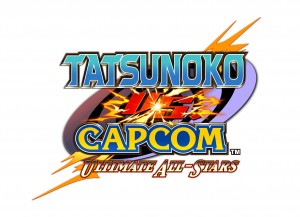 Release Date: Winter
Genre: VS Fighting
Platform: Nintendo Wii
Rating: TBD
Price: TBD
Fans of Capcom's fighting games will be excited to know that a real fighting game is Wii-bound come this October. Titled Tatsunoko vs. Capcom: Ultimate All-Stars, this game pairs legendary characters like Ryu (Street Fighter), Morrigan (Darkstalkers), Mega Man (Capcom's company mascot) and others against the Tatsunoko Universe. Fan favorites like Ken The Eagle and Jun The Swan from The Science Ninja Team Gatchaman Anime (known in North America as Battle of the Planets or G-Force), and cybernetic warrior Casshan and comedic action hero Yatterman No.1 round out a cast of 20 selectable fighters.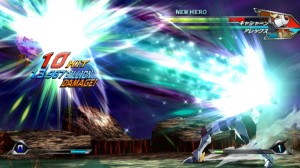 TvsC will combine elements from previous Street Fighter and VS titles. Capcom promises something for casual and hardcore gamers alike with easy, intuitive controls and brightly colored graphics, in-depth Aerial Rave combos, Variable Assists, gorgeous Hyper Combos, and Variable Combinations that combine the capabilities of two members of the player's tag-team. TvsC is a new version of the game that released in Japan in arcades and on the Wii in December 2008. Capcom is looking into adding new features to the game, including possible additions of several new characters from both Capcom and Tatsunoko, and is exploring the option of online gameplay.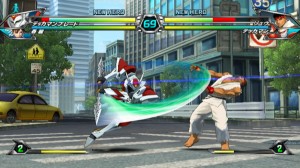 ULTIMATE ALL-STARS will work with a number of different control devices, including the Wii Remote and Nunchuk, Classic Controller, GameCube Controller and various third-party joysticks designed for the Wii.
Key features:
Features
• More than 20 fighters to choose from:

•Capcom: Ryu, Chun-Li (Street Fighter), Batsu (Rival Schools), Alex (Street Fighter III), Morrigan (Darkstalkers), Soki (Onimusha: Dawn of Dreams), Mega Man Volnutt (Mega Man Legends), Roll (Mega Man), Saki (Quiz Nanairo Dreams), Viewtiful Joe, PTX-40A (Lost Planet) and more to be announced

•Tatsunoko: Ken the Eagle, Jun the Swan (Science Ninja Team Gatchaman), Yatterman, Doronjo (Yatterman), Casshan, Tekkaman, Polymar, Karas, Ippatsuman and Gold Lightan, plus others to be revealed.
• Possible additions to the game: the team is exploring adding new Capcom and Tatsunoko characters as well as online gameplay.

• Two-man tag team action: Players build their own perfect team and use Assist Attacks and each character's special moves to create their own unique fighting style.

• Four button fighting controls: Easy-to-understand four button control scheme opens gameplay up to new players with familiar movements and combos

• Depth of gameplay: Once the basics are mastered, players can go deeper into the fighting game controls to master Aerial Rave air combos, Delayed Hyper Combos, Mega Crash defensive moves, Assault attack moves and the Baroque extended combo system.

• Fast-paced action and huge attacks: Each characters has a unique arsenal of moves, including spectacular Hyper Combos that literally take over the screen with devastating results.

• 3D characters, 2D fighting gameplay: As in Street Fighter IV, TATSUNOKO VS. CAPCOM ULTIMATE ALL-STARS has bright, 3D rendered characters battling it out in familiar 2D style.